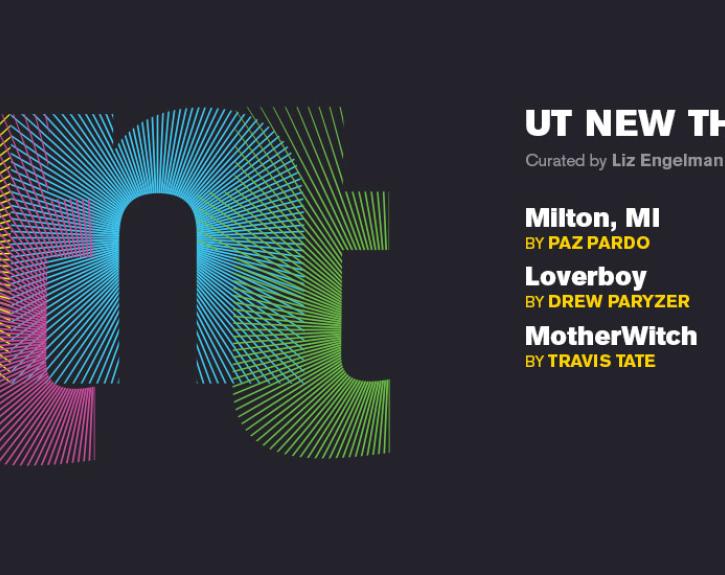 Event Details
April 12, 2018, 7:30 p.m.
April 13, 2018, 7:30 p.m.
April 14, 2018, 2 p.m.
April 14, 2018, 7:30 p.m.
April 15, 2018, 2 p.m.
April 17, 2018, 7:30 p.m.
April 18, 2018, 7:30 p.m.
April 19, 2018, 7:30 p.m.
April 20, 2018, 7:30 p.m.
April 21, 2018, 2 p.m.
April 21, 2018, 7:30 p.m.
April 22, 2018, 2 p.m.
New plays by M.F.A. Playwriting candidates
Curated by Liz Engelman and Steven Dietz
April 12-22, 2018
Oscar G. Brockett Theatre
UTNT (UT New Theatre) presents newly developed works from playwrights of Texas Theatre and Dance and Michener Center for Writers. Now in its eleventh season, this showcase exists as an incubator for new work, with many continuing on to be professionally produced across the country.
The 2018 UTNT (UT New Theatre) plays under consideration include: 
By Drew Paryzer
Directed by Jess Shoemaker
April 12, 14, and 18 at 7:30 p.m. and April 21 at 2:00 p.m.
Loverboy finally returns home: to his childhood home and to his mother. His youth is gone, but there are still many things to be raised within the walls of his strangely powerful bedroom.  
By Travis Tate
Directed by Alice Stanley
April 13, 19, and 21 at 7:30 p.m. and April 15 at 2:00 p.m.
Nights before Darla's 21st birthday, she is told of The Belleford women's great power that she will inherit. Darla's girlfriend is a tad angry with her. Oh, and the family cat, Winston, has started talking! While studying for her induction into the family coven, Sherry, Darla's grandmother, falls sick. Darla must negotiate her family's legacy, her power and the love of her life, all before she's able to drink. 
By Paz Pardo
Directed by Adam L. Sussman
April 17, 20 at 7:30 p.m. and April 14, 22 at 2:00 p.m.
Leah's got writer's block, Amber's got ambition, Jake's got it all. Leah and Jake were once up-and-coming, hot-shot poets. Now Leah's working admin as Jake's career skyrockets, and slugs are eating the foundation of their house. When fresh-faced Amber shows up, it's only a matter of time before things get sticky. A play about threesomes, poetry and the failure to communicate. 
All titles, dates and venues are subject to change. 
Attend an Event
Helpful links to help you plan your visit:
Purchase tickets and learn more about subscription packages and discounted student tickets.
Get directions and up-to-date information about campus parking and construction impacts.
Learn more about how we're keeping our community safe.
Accessible viewing options are available by request for all our venues.