CONTACT
Lara Dossett
Professional Learning Coordinator, Drama for Schools
The University of Texas at Austin Department of Theatre and Dance is pleased to host the Summer Institute: Activating Learning through the Arts in partnership with the Austin Independent School District Creative Learning Initiative. 
---
Program Overview
The Summer Institute is a research-based comprehensive pedagogical exploration and immersion training experience in the use of drama-based instruction across the curriculum. This three to four-day intensive arts integration training program is co-facilitated by faculty and graduate students from the Department of Theatre and Dance and the College of Education. The Institute provides an opportunity for educators and working professional from across the country to gather and explore the power of learning in and through the arts.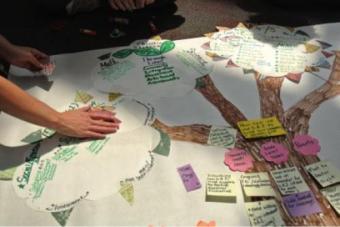 During the Institute, participants:
Explore drama-based strategies from the student's perspective;

Reflect on how the strategies might apply in your context;

Work in professional learning communities;

Develop and redefine new arts-integrated curricula and/or peer training modules, and;

Have the opportunity to observe and facilitate drama-based mini lesson plans.
The Institute concludes with the sharing of multiple drama-based lesson plans for peer review. Ongoing support for participants is provided after the class through the DBI Network website. In-service participants are also eligible to receive follow-up and support from University of Texas at Austin faculty through the Drama for Schools program model.
I loved debriefing after using strategies to talk about all the different ways they can be applied in various contexts. It helped to deepen my own learning and understanding as well as make connections with other participants.


- 2021 DFS Summer Institute participant
2022 Tuition and Fees
Summer Institute: Activating Learning through the Arts tuition for non-AISD participants: $350-500 sliding scale.
AISD participants' tuition is provided by the Creative Learning Initiative.
Contact Lara Dossett at laradossett@utexas.edu with any questions. Fees include course texts used in the Institute.
It was a great training and did not feel one bit like a summer training. So thankful that we took the time to practice everything that was being taught. It kept me motivated and I looked forward to the next day.


- 2021 DFS Summer Institute participant