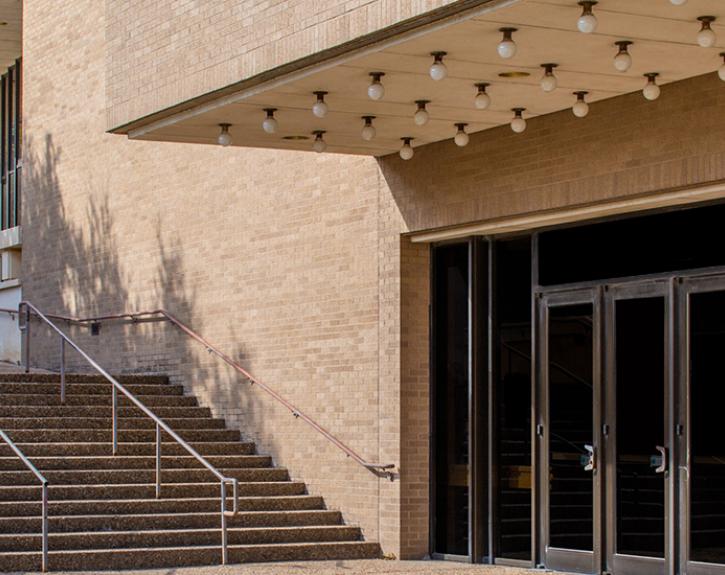 COVID-19 SAFETY
Learn more about department and
university COVID-19 safety policies
and procedures. 
Tips for Parking on Campus 
Plan to arrive early to all events.

San Jacinto Garage, Manor Garage, Lots 37 and 39 will still be available options for UT parking. City metered parking is also available along Dean Keeton. 

We strongly encourage carpooling and rideshare options to attend events on campus. 
The University of Texas at Austin Department of Theatre and Dance is located in the F. Loren Winship Drama Building. Situated in east campus, the building is home to the administrative offices, classrooms, the Oscar G. Brockett Theatre and B. Iden Payne Theatre. The Lab Theatre, a space dedicated for student-driven projects, is located between the F. Loren Winship Drama Building and Jackson School of Geosciences.

F. Loren Winship Drama Building Physical Address: 300 East 23rd Street, Austin, TX 78712
Lab Theatre Physical Address: 303 East 24th Street, Austin, TX 78712
Parking Information
The University requires all faculty, staff, students and visitors to pay for parking on campus. Visitors are encouraged to park in the San Jacinto Garage and Manor Garage, both within walking distance of the theatres. In addition, there is metered parking available on Dean Keeton/26th Street.
Additional information is about parking resources on campus for visitors is available HERE. 
Looking for tips and tricks to get to campus? Learn more about alternative options to plan your visit HERE. 
Visitor Parking Map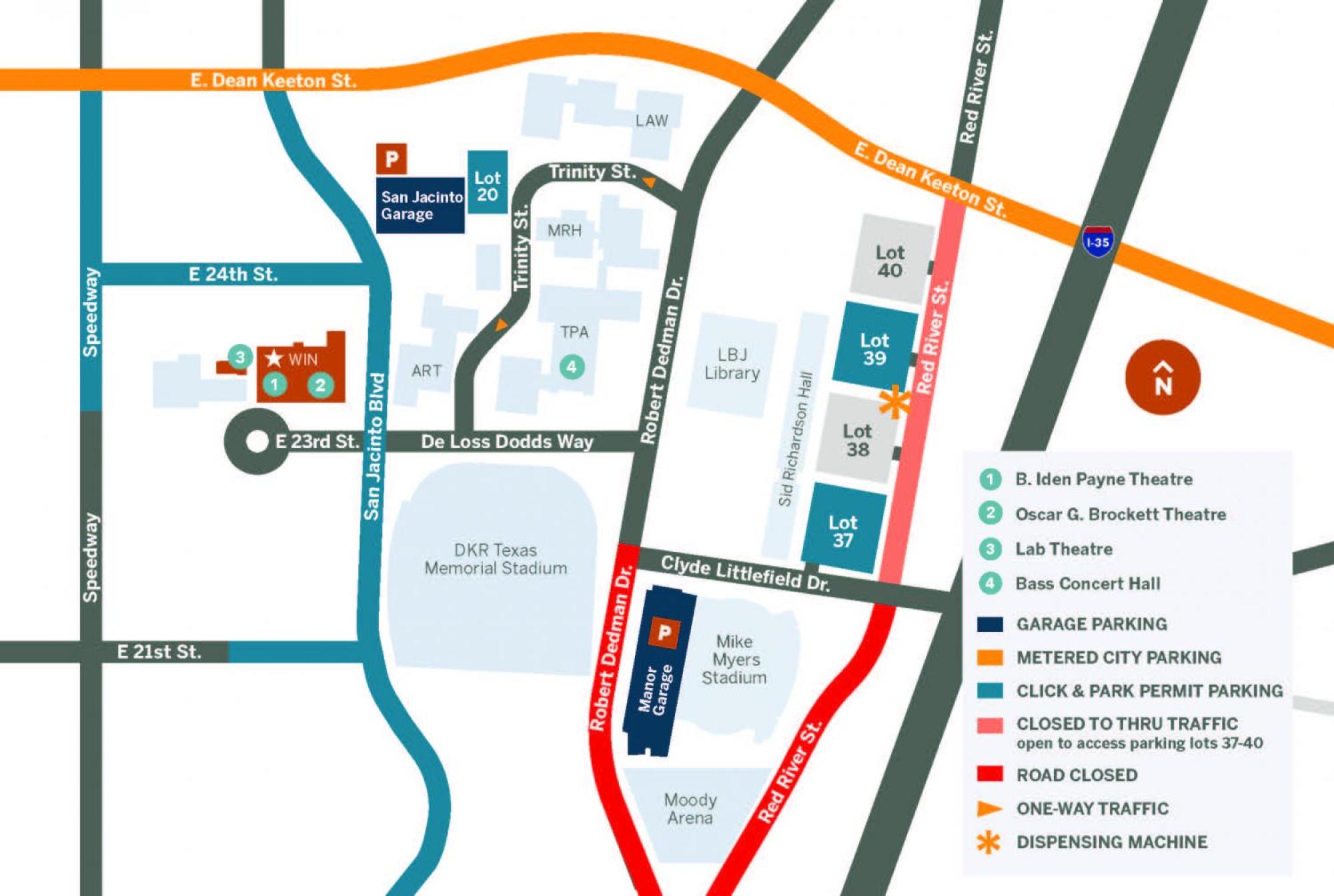 Safety on Campus After Hours
Transportation options are available to students, faculty, staff and guests who may be on campus after hours to help ensure you arrive at your destination safely. 
UT Night Rides
Lyft is the provider for UT Night Rides. This program provides Lyfts away from campus to your home seven days a week from 11:00 p.m. to 4:00 a.m. and is available to all current students, faculty and staff of the University. Locations served mirror current UT Shuttles routes for West Campus, Far West, Lake Austin, North Riverside, Lake Shore, Crossing Place and Intramural Fields as well as mainline Route 10, serving the Red River area. All UT Night Rides must originate from main campus, J. J. Pickle Research Campus (PRC), or Dell Pediatric Research Institute (DPRI) only.
Sure Walk
Sure Walk currently runs seven days a week from 8:00 p.m. to 2:00 a.m. and is available for students, faculty and staff of the University. If you are on campus late and have concerns about your safety, all students, faculty, and staff can request Sure Walkers to accompany them on their walk home or to their campus destination. To request Sure Walk, call 512-232-9255 during operating hours. 
Courtesy Stop Program
The Courtesy Stop Program lets riders request a drop-off in between regular stops after 9:00 p.m. on all UT Shuttle, CapMetro Bus and CapMetro Rapid routes. The program is designed to give riders a chance to select safe, well-lit spots to exit the bus closer to their destination.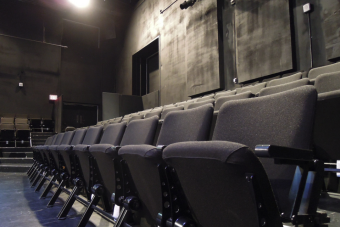 Facilities
From studios to stages, see what facilities make up the F. Loren Winship Drama Building.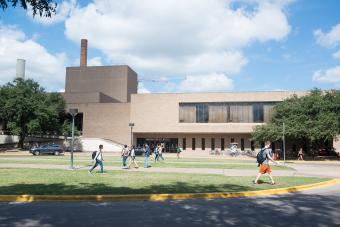 Visitor Parking
Visit the Parking and Transportation Services website to learn more about parking options and planning your visit to campus.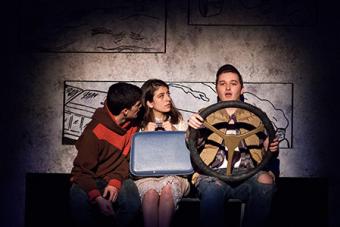 Tips for Parking on Campus
We know parking can be a challenge when coming to the 40 Acres, and we're here to help. Learn more about options to get to and from campus.