people in masks crouched on a bridge
Drama and Theatre for Youth and Communities (M.F.A. in Theatre)
Contact
Katie Dawson 

Head, Drama and Theatre for Youth and Communities Program
(512) 232-5314
The Master of Fine Arts in Theatre with a specialization in drama and theatre for youth and communities (DTYC) is a nationally recognized program that focuses on the interdependence of theatre artistry, pedagogy and scholarship. Inherently interdisciplinary in nature, the program draws on practice and scholarship from many fields such as theatre/drama, feminist studies, performance studies, education and critical pedagogy, youth development and cultural studies.
Through drama-based pedagogy, youth-focused artistry and rigorous scholarship, students and faculty in our program demonstrate a strong commitment to leadership, community, diversity, innovation and social justice.
The program prepares graduates for multiple career paths in education, community and non-profit organizations and professional theatre for young audiences. The three-year M.F.A. degree stresses flexibility and encourages participation in classes throughout the Department of Theatre and Dance and the university at large. The program culminates in a practical thesis project and a written thesis document, which applies theory from a wide range of disciplines to an area of practice in drama and theatre for youth and communities. Thesis projects apply reflective practitioner research to address applied drama/theatre, arts integration, community engagement, drama-in-education, theatre for young audiences, teaching artist praxis, theatre education, theatre-in-education, youth theatre and/or the creation or production of original works for young audiences. Within higher education and the theatre profession, the M.F.A. in Theatre with a specialization in drama and theatre for youth and communities is considered a terminal degree for related fields of study. The degree does not lead to public school teacher certification; however, students interested in teacher certification may take additional classes to achieve this goal.
Four candidates are admitted each year from an intensely competitive group of applicants.
Virtual Information Session
Interested in joining our program? Attend our virtual information session! Meet current students and faculty and learn more about classes, research, projects/performances, partnerships and funding opportunities. 
December 5, 2022
7:00 p.m.
To attend, register below 
Experience
The university's Drama and Theatre for Youth and Communities program began in 1945 with a focus on creative drama classes and plays for children. Decades later, the program remains an integral component of the departmental landscape through the production season, as well as innovative school and community programs. Students engage with youth and communities through work in:
Theatre for Young Audiences
Drama and Theatre Education
Applied Theatre and Drama
Plays for young audiences on campus and in schools
New play development and teaching artist work with professional companies and communities
Faculty-led practice as research programs
Download the Program Guide

 

 

You may need to install Acrobat Reader to access this document.  
In the News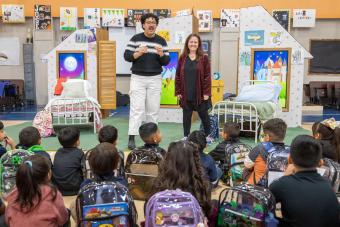 Off Book: A Theatre and Dance Blog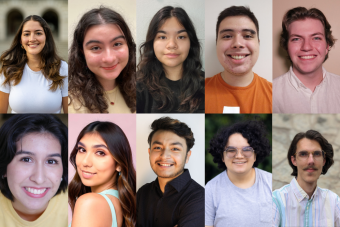 Off Book: A Theatre and Dance Blog
View all News