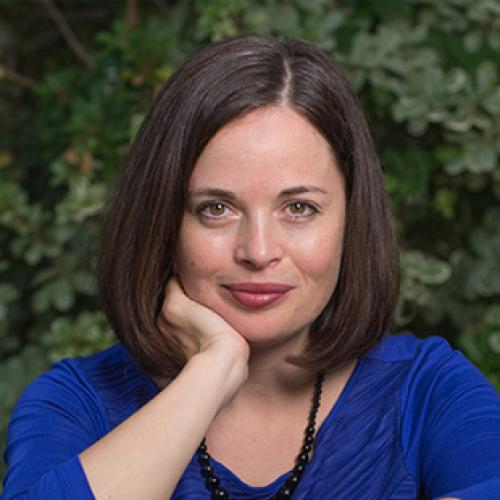 Co-head of Drama and Theatre for Youth and Communities / UTeach Theatre

Associate Professor, Drama and Theatre for Youth and Communities / UTeach Theatre
Katie Dawson uses the arts to increase equity and access in educational contexts. She is an associate professor at The University of Texas in Austin where she co-heads the M.F.A. in Drama and Theatre for Youth and Communities / UTeach Theatre program. Dawson received the Distinguished Book Award (for The Reflexive Teaching Artist: Collective Wisdom from the Drama/Theatre Field), the Creative Drama Award and the Winifred Ward Scholar Award from the American Alliance of Theatre and Education. Her second book Drama-Based Pedagogy: Activating Learning Across the Curriculum was published in 2018. Dawson is a Provost's Teaching Fellow at UT where she received the 2015 College of Fine Arts Distinguished Teaching Award, the 2018 College of Fine Arts Distinguished Research Award and the 2013 Regents Outstanding Undergraduate Teaching Award. Dawson is an internationally recognized consultant in creative learning and teaching artist practice. She publishes, speaks and facilitates workshops locally and globally, including ongoing partnerships in Australia, Asia and Eastern Europe with university and government partners. Dawson recently completed a two-year fractional appointment at the University of South Australia in pedagogical innovation.
Prior to academia, Dawson worked as teacher, museum theatre educator, youth theatre director and actor.
What do you enjoy most about being a part of the UT Theatre and Dance community?
The community of learners (faculty, students, staff) all committed to re-thinking the study and performance of drama/theatre and dance for the 21st century.
What is your favorite thing about Austin?
I love Austin's breakfast tacos and green spaces. It's a town with a big city intelligence and vibe with a small town sense of welcome and ease.
Arts-based educational research, community-engagement, teaching artist pedagogy and practice, qualitative research methods, curriculum design, program evaluation.
Drama-based Pedagogy and Practice, Research and Practice, Drama/Theatre Applications in Museums, Teaching Artists in Schools and Communities, Arts Integration in Multidisciplinary Connections.
Recent Publications
"Performative Embodiment as Learning Catalyst: Exploring the Use of Drama/Theatre Practices in an Arts Integration Course for Non-Majors." Creativity in Theatre: Theory and Action in Drama/Theatre Education, Chapter 5 (2018)
"Reflections on School Change Through the Arts." Theatre, Performance, Change. Palgrave (2018)
"My Alaskan Education: From Service to Sustainability." What was I thinking: A Reflective Practitioner's Guide to (Mis)Adventures in Drama Education. Intellect/University of Chicago Press (2015)
"Creative Body-Based Learning: Redesigning Pedagogies in Mathematics." International Journal for Learning Through the Arts: A Research Journal on Arts Integration in Schools and Communities, Volume 14, number 1 (2018), co-authored by Robyne Garret, Jeff Meinters and Alison Wrench 
 "Reflection-on-action plans: Considering systems alignment in the results of an arts-based professional learning intensive for classroom teachers." Youth Theatre Journal, Volume 32, number 1 (2018), co-authored by Caitlin Deckard, Stephanie Cawthon and Hayley Loblein.
"Drama-Based Pedagogy in the Visual Arts: A Visual Arts Teacher's Action Research Journey." International Journal for Learning through the Arts, Volume 13, number 1 (2017), co-authored by Sephanie Cathon, Shasta Ihorn and Laura Judd-Glossy
"Participatory Research in an Arts Integration Professional Development Program." Teacher Development: An international journal of teachers' professional development, Volume 16, number 2 (2012), co-authored by Stephanie Cawthon, Laura Judd-Glossy and Shasta Ihorn
"Drama for Schools: Teacher Change in an Applied Theatre Professional Development Model." RIDE: The Journal of Applied Theatre and Performance, Volume 16, number 3 (2011), co-authored by Stephanie Cawthon and Sally Baker
The Reflexive Teaching Artist: Collective Wisdom from the Drama/Theatre Field. Co-authored with Daniel A. Kelin II. (2015)
Drama-Based Pedagogy: Activating Learning Across the Curriculum. Co-authored by Bridget Lee. (2018)
Recent Works
Various workshops and professional learning sessions, including:
"Ground, Shape, Drive: Translating Your Artistic Process into a Reflexive Teaching Artist Practice," for the International Teaching Artist Conference 5, South Korea/Digital Conference: October 2020. (Presented with Faith Hillis and Laura Epperson)

"One Book, One BiH," Partnership with the U.S. Embassy in Sarajevo to train local leaders to facilitate workshops on arts-based critical thinking and literacy for over 100 English teachers across Bosnia and Herzegovina: October 2020. (Co-designed and facilitated with Laura Epperson and Faith Hillis)

"Alignment and Refinement: Creating and Sustaining High Impact Arts Partnerships with K-12 Schools, " 8-hour Pre-Conference Workshop for 2019 National Guild for Community Arts Pre-Conference, Austin, TX

"Drama-Based Pedagogy: Tools to Create, to Connect, and to Collaborate," Keynote and Master Class for 2019 Arts Express Conference, hosted by the Brigham Young University, Provo, Utah

"Make Your Move: Bodies Creating Change," Performance + Workshop for the 2019 SXSWedu Conference, Austin, TX. (Presented with Andrea Beckham, Eric Dawson and Peace First Fellows; Originally created with Andrea Beckham)

"The Arts as Creative Catalyst," Keynote for the 2019 ASO Learning Program Conference for Music Educators, hosted by the South Australian Association of Music Educators and the Australian Symphony Orchestra, Adelaide, South Australia.

"Make Your Move: Bodies Creating Change," Keynote for Panpapanpalya 2018 World Dance Congress, Child International (daCi) and World Dance Alliance Education & Training Network, hosted by the University of South Australia, Adelaide, South Australia. (Presented with co-creator Andrea Beckham)
Contact Information
Campus location
WIN 2.160