The Department of Theatre and Dance is pleased to support our resident theatre organization, the Rude Mechs, a nationally-acclaimed, ensemble-based theatre collective. This two-year residency provides students the opportunity to work with and learn from members of Rude Mechs through group workshops, mentorship and respondent feedback on student-devised work and processes.
---
As part of their residency, students have an opportunity to work directly with members of Rude Mechs, who have, since their inception in 1996, created theatrical works that have earned their company of 33 members over 180 local and national awards and nominations. Part of the mission of Rude Mechs is to demystify the art-making process, allowing for communication with and responsiveness to audiences and the community at large. In partnering with the department, they will continue to foster this spirit of mutual creation and learning as part of developing new work. 
Faculty members affiliated with the Rude Mechs include Kirk Lynn (co-producing artistic director), Madge Darlington (co-producing artistic director) and Alexandra Bassiakou Shaw (Managing Director).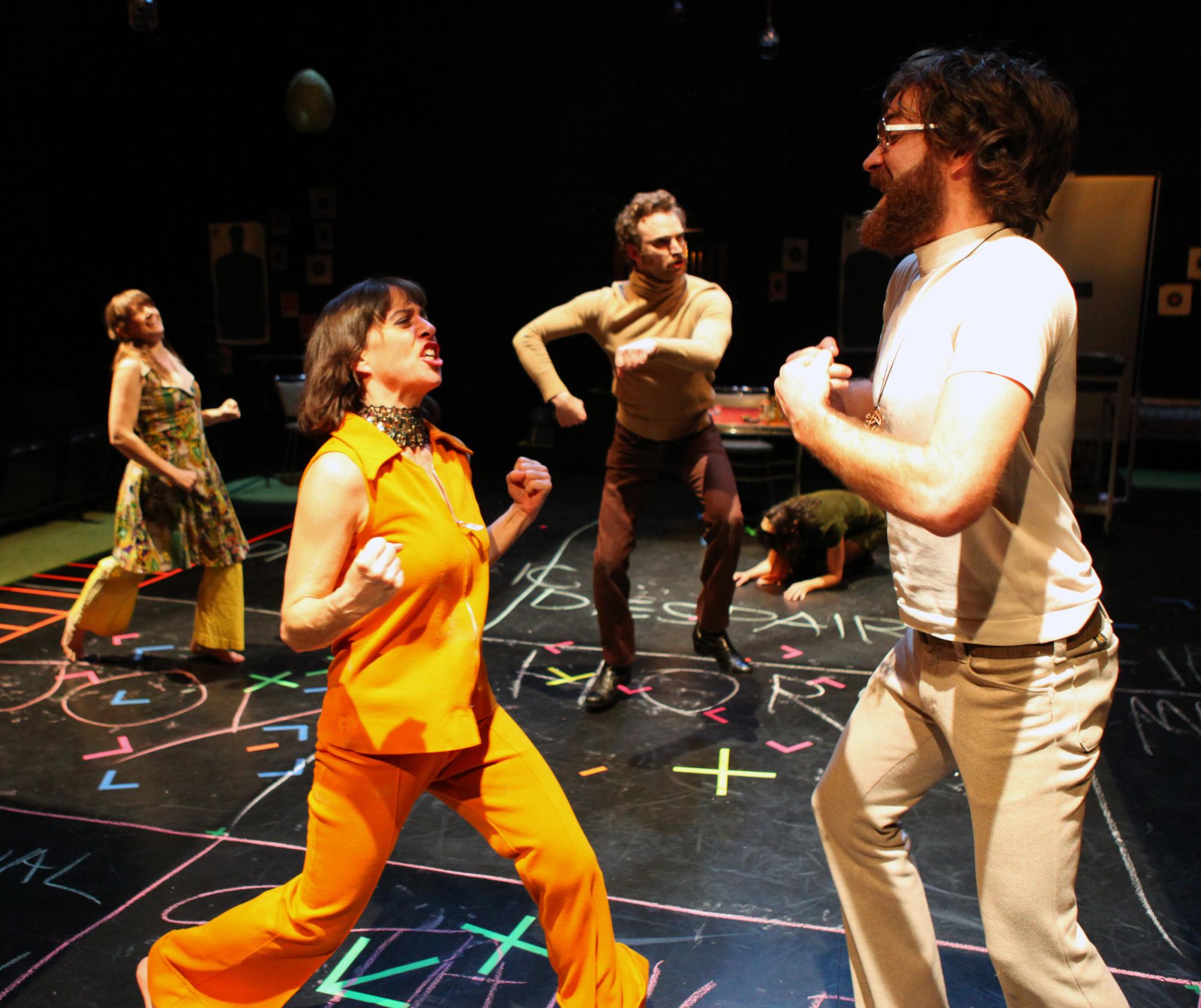 Featured L to R: Hannah Kenah, Lana Lesley, Jason Liebrecht, Shawn Sides, Thomas Graves
Humana Festival of New American Plays, 2010, Actors Theatre of Louisville
Photo: Alan Simons
Among their many achievements, Rude Mechs has seen six off-Broadway productions and four major commissions. They've toured their original plays to prestigious venues across the country, including The Walker Arts Center in Minneapolis and Woolly Mammoth in Washington D.C. Rude Mechs' work has also been seen in festivals around the world, including the Edinburgh Fringe Festival (winner Total Theatre Award for Best New Play by an Ensemble), the Philadelphia Live Arts Festival and the Under the Radar Festival (NYC). Touring productions include Field Guide (Yale Repertory Theatre), Not Every Mountain (Fusebox Festival, The Guthrie Theatre), The Cold Record (Horizon Festival), Stop Hitting Yourself (Lincoln Center) and The Method Gun, which was staged at the B. Iden Payne Theatre in October 2019.
For more information about Rude Mechs, please visit rudemechs.com