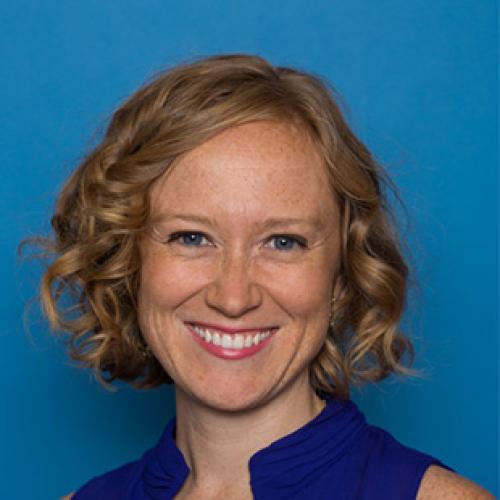 Assistant Professor of Instruction, Drama and Theatre for Youth and Communities / UTeach Theatre

Undergraduate Executive Committee Member

Drama for Schools Coordinator
Lara Dossett's creative and scholarly activities are driven by her pursuit to make the arts accessible for every young person (Pre K-16). In an effort to expand her practice and deepen her scholarship, she now focus on practice-based research largely related to pre-service and in-service teacher professional development in drama-based pedagogy (DBP). Through DBP and Drama for Schools, Dossett is committed to building intentional communities of practice and systems that support creative teaching and learning. Currently, she is researching how drama-based pedagogy can be used within an innovative pedagogical model from South Australia called the Student Learning Community. She is interested in what happens when we incorporate students into professional learning communities. These are typically places students are not welcome, but in this model she and her collaborators are interested in seeing how the students' relationships to their teachers, to their schools and to the arts change if they are acting as researchers, teachers, advocates and artists alongside their teachers in order to transform their school. Dossett is currently writing about this work in a co-written book with Katie Dawson and Stephanie Cawthon titled Drama for Schools: A Systems Change Approach to Transforming Education Through the Arts to be published by Intellect.
What do you most enjoy about being a part the of UT Theatre and Dance community?
UT Theatre and Dance attracts students and faculty that are world-class humans, scholars, teachers and artists. Everyday I learn something new from a colleague or student, and that is a huge gift. As a community we learn together and from one another, and that exchange makes my work stronger. That exchange is electric.
What is your favorite thing about Austin?
The tacos.

Arts integration, arts-based instruction, drama-based pedagogy, research-based professional learning for educators and teaching artists
Arts Integration for Multidisciplinary Connections, Performance as Collaborative Practice, Drama-based Pedagogy and Practice, Community Engagement and Partnerships, Teaching Artists in Schools and Communities
Contact Information
Campus location
WIN 1.156