Looking for help parking on campus?
We know parking can be a challenge when coming to the 40 Acres, and we're here to help. In addition to discounted parking available for events at the College of Fine Arts, other parking options exist on campus. We recommend arriving early for all events in order to ensure you can find parking options. 
Visitor Parking Options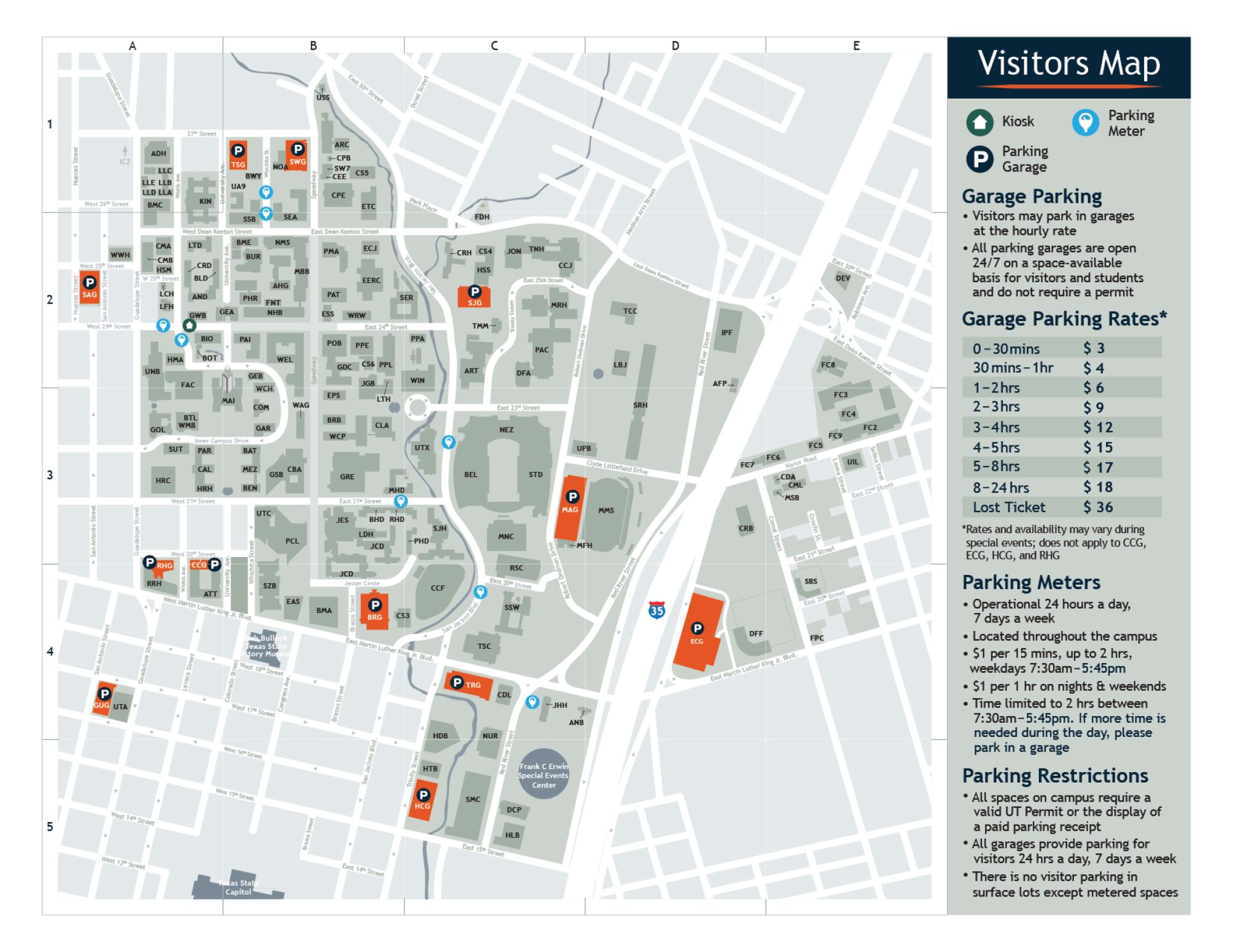 Parking Garages 
Visitors are welcome to park at UT parking garages for events (unless signs indicate otherwise). A map of parking garages can be found here. Rates may vary. 
No permit is required to park in the garages; just pull a ticket on your way in and process it at the exit, a paystation, or the garage office before you leave. Fees are calculated based on the amount of time you are in the garage. Garage daily parking offers the closest, most convenient spaces to all areas of the university for visitors.
Street Parking 
Street parking closest to the F. Loren Winship Drama Building can be found along Dean Keeton St. Visitors are advised to park closest to the intersection of San Jacinto Blvd. and Dean Keeton St. in order to park as close as possible to the Winship Building. 
Surface Parking and Lots
All surface parking lots as well as street parking require permits specific to the area from 7:30 a.m. to 5:45 p.m., Monday through Friday. Outside of these hours, most spaces require any university permit with limited spaces open for parking without a permit. Caution: Read signs carefully. Each surface parking lot is signed at the entrance and further restrictions are usually designated within the lot.
Ride Share 
Arriving by ride share is strongly encouraged during high-traffic event days. Lyft is the official partner of The University of Texas at Austin. Learn more about how to ride safe with Lyft.
Accessible Parking 
More information about available disability parking including parking locations is available here. 
Parking and Transportation Services
For more information or to contact the division of Parking and Transportation Services for The University of Texas at Austin, visit: