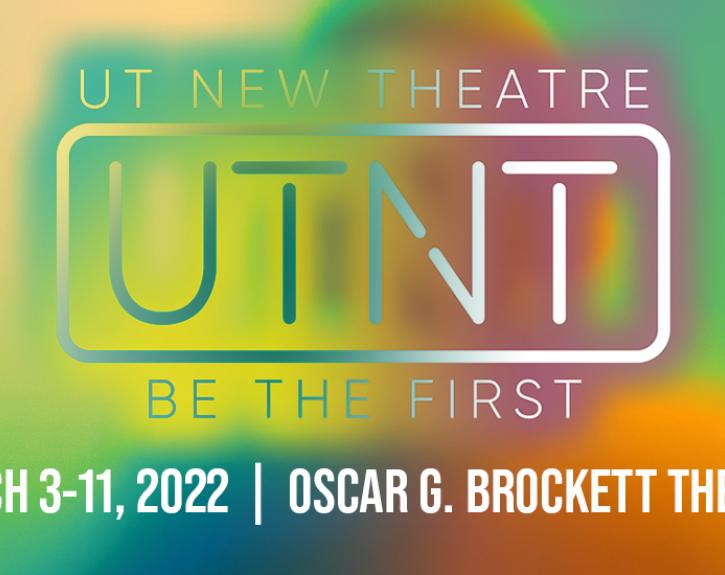 Event Details
Oscar G. Brockett Theatre
New plays by M.F.A. playwrights 
UTNT (UT New Theatre) presents newly developed works from playwrights of Texas Theatre and Dance and Michener Center for Writers. Now celebrating its 15th season, this showcase exists as an incubator for new work, with many plays continuing on to be professionally produced across the country. 
Co-Producing Artistic Director, KJ Sanchez
Co-Producing Artistic Director, Alexandra Bassiakou Shaw
Associate Producer, Jenny Lavery
View the UTNT (UT New Theatre) playbill.
PERFORMANCES 
March 3-11, 2022
---
The plays featured in the 2022 presentation of UTNT (UT New Theatre) include: 
Tiny Fingerprints
By Jaymes Sanchez
Directed by Adam Flores 
Set at San Antonio's famous haunted train tracks, Tiny Fingerprints explores grief, the nature and power of belief and the lies we all tell ourselves to make life worth living. In this play, Bobby believes that the spirit of his dead child lives with the "ghost children" at the haunted train tracks. As Bobby falls deeper into grief and delusion, his ex-wife urges him to seek help, a famous psychic medium encourages his fantasies and a science YouTuber attempts to destroy his world with reason. As mischievous ghost children and a troubled playwright meddle in the action, Bobby's fantasies become the foundation of his life, and the destructive potential of the truth grows.
Performances: 
March 3 at 7:30 p.m.
March 5-6 at 2:00 p.m.
Murky as Hell 
Written and Directed by Andrea L. Hart 
Murky as Hell is based on the stories of women who aided Jeffrey Epstein, Harvey Weinstein and Terry Richardson, among others. What began as an exercise in imagining fitting punishment for these women turned into a meditation on the violence we inflict on each other and the systems that teach us how to do it. Darkly comic and brutally over-the-top, Murky as Hell examines notions of guilt and complicity in the biggest flesh-eating, spine tingling, scale-balancing match of the century. Buckle up. 
Performances:
March 4, 6 and 10 at 7:30 p.m.
Jinkies! or The Dog Play
By Josiah Thomas Turner 
Directed by Braxton Rae
Ten years ago, following a botched case, the members of our favorite Saturday-morning-cartoon teenage-mystery-solving team went their separate ways. Now as crisis descends on Coolsville and one of their own is swept into the spotlight, accused of a heinous crime, the gang must reunite to solve one last mystery - But the question remains; Where is The Dog?
Performances:
March 5, 9 and 11 at 7:30 p.m.
Click here to view this video on Vimeo.
Inside Look
---
All titles, dates and venues are subject to change.
Attend an Event
Helpful links to help you plan your visit:
Purchase tickets and learn more about subscription packages and discounted student tickets.
Get directions and up-to-date information about campus parking and construction impacts.
Learn more about how we're keeping our community safe.
Accessible viewing options are available by request for all our venues.