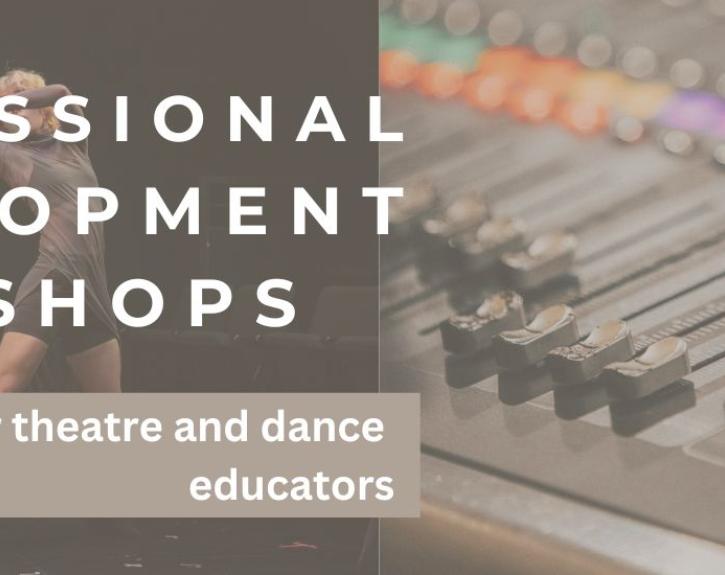 The Department of Theatre and Dance at The University of Texas at Austin welcomes educators to campus for summer intensives that further explore the field of performance-based art. Professional Development Workshops are open to all professionals regardless of affiliation with the university. 
Creating and Collaborating
A workshop for dance educators
July 15, 2023
REGISTRATION NOW CLOSED
Creating and Collaborating is a workshop for dance educators to receive professional development and re-engage with your creative self. Restore your own reserves in a contemporary movement class and engage  in a collaborative session with other dance educators.
Contact: Leah Cox (leah.cox@austin.utexas.edu)
Tuition: $200 per adult (UT faculty, staff and students are eligible for a discounted rate. Please contact tadsummercamps@austin.utexas.edu for more information)
Sound Design for Theatre
A professional development workshop for educators
June 20, 2023
REGISTRATION NOW CLOSED
Sound Design, an umbrella term for all things related to sound, has come into its own as a design discipline like scenic, costume and lighting in the past two decades.  It requires unique knowledge and skill sets, as well as study and practice, while drawing from a myriad of backgrounds and experiences the participant may already possess. This workshop will provide a survey of sound physics, system design, sound creation and collaboration in a theatrical context, along with an overview of how they relate to other aspects of a production.