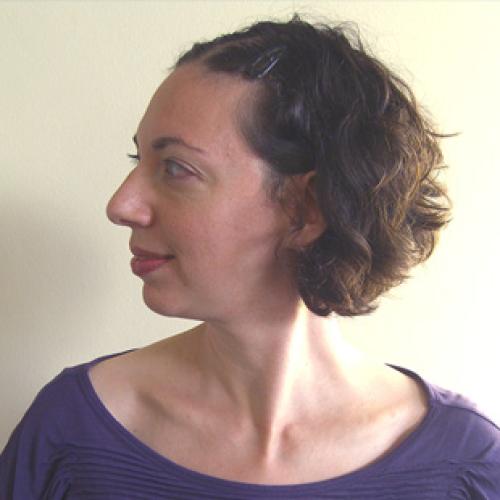 Area Head, Performance as Public Practice

Associate Professor, Performance as Public Practice
Rebecca Rossen (Ph.D., Northwestern) is a dance historian, performance scholar and choreographer. She teaches dance history, a variety of courses focused on gender, race, ethnicity and nationality in physical performance, and graduate seminars in dance studies, performance theory, performance as research and teaching methods. Dr. Rossen is a winner of the 2015 Regents' Outstanding Teaching Award and a recipient of Teaching Excellence Awards from the Department of Theatre and Dance and Women's and the Center for Women's and Gender Studies.
She is the author of Dancing Jewish: Jewish Identity in American Modern and Postmodern Dance (Oxford University Press 2014), winner of the Oscar Brockett Book Prize for excellence in dance research and has published articles in Theatre Journal, TDR: The Drama Review, Feminist Studies, Opera Quarterly and Dance Teacher Magazine. Her work has also been published in anthologies including The Oxford Handbook of Dance and Ethnicity (2016) and "You Should See Yourself": Jewish Identity in Postmodern American Culture (2006). Her current research focuses on representations of the Holocaust, memory and trauma in contemporary dance. From 2015 to 2018 she led the Society of Dance History Scholar's Editorial Board and served as editor of the Studies in Dance History book series.  
As a dancer, Dr. Rossen performed with numerous companies including the Margaret Jenkins Dance Company, Hedwig Dances and the Cook County Theatre Department. Her choreography has been presented in venues throughout her hometown of Chicago, as well as in Cleveland, Philadelphia and Israel. Prior to joining the university's faculty, Dr. Rossen taught at the University of Chicago, George Mason University, the Dance Center of Columbia College and many Chicago-area dance studios. 
Professor Rossen is a faculty affiliate in Women's and Gender Studies, Jewish Studies and American Studies at The University of Texas at Austin.

Dance History, Performance Studies, Dance and Identity, Performance Analysis, Jewishness in American Performance, Holocaust Representation, 20th and 21st-century U.S. Concert Dance, Experimental Performance, Embodied Scholarship
Dance History I and II, Dancing America, Gender and Sexuality in Performance, Narrative in Physical Performance, Jewish Identity in American Performance, Proseminar: Performance as Public Practice, Supervised Teaching, Researching Performance/Performing Research
Contact Information
Campus location
WIN 2.166