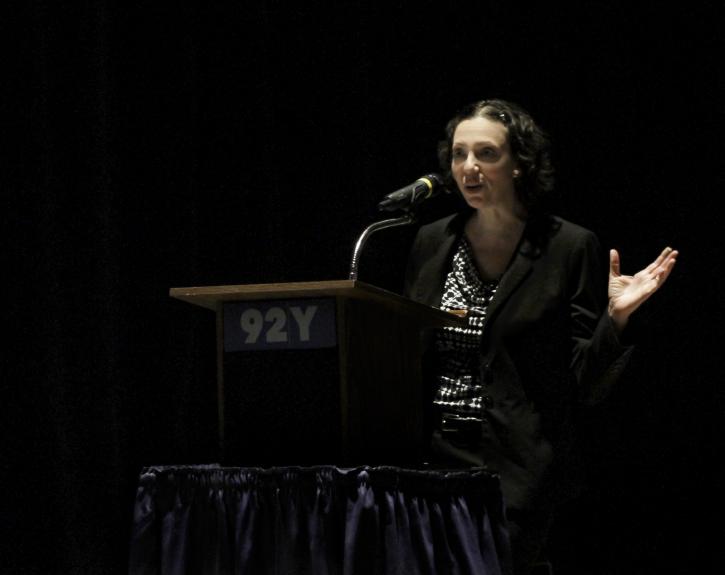 This January, University of Texas at Austin Associate Professor Rebecca Rossen was awarded a $60,000 grant from the National Endowment for the Humanities (NEH). Part of a larger $28.1 million dollar investment in the humanities across the United States, projects selected from this year's applicants support initiatives to fund educational resources, the preservation of the nation's cultural heritage collections and the development of new technologies to further support humanities research. 
"I'm so honored to receive this award," Rossen said. "It means a lot to me personally because it's a vote of confidence in the research that I'm doing. I'm so grateful to the NEH, as well as to the Department of Theatre and Dance and College of Fine Arts, for giving me the time and space to write. The award is also meaningful to me as a dance scholar, because it is important for dance studies scholarship to be recognized within the humanities. For example, Clare Croft, a Performance as Public Practice (PPP) alum, won a NEH Fellowship last year for her new book on dance critic Jill Johnston. This recognition says a lot about the strong work that PPP faculty, students and alumni do out in the world."
Rossen, a dance historian, performance scholar and choreographer, received support for her project Moving Memories: Holocaust Representation in Contemporary Dance, the first monograph focused on dance about the Holocaust. The research is also supported by a Rapoport Fellowship from the Schusterman Center for Jewish Studies at The University of Texas at Austin. Moving Memories discusses works created between 1961 and the present, featuring more than two dozen dance pieces by both Jewish and non-Jewish choreographers in the United States, as well as Austria, Belarus, Canada, Germany, Hungary, Israel, Poland and the United Kingdom.
Rossen is the author of Dancing Jewish: Jewish Identity in American Modern and Postmodern Dance (Oxford University Press, 2014), winner of the Oscar G. Brockett Book Prize for excellence in dance research.
"My project, Moving Memories: Representations of the Holocaust in Contemporary Dance, builds on my career-long dedication to the intersections between dance studies and Jewish studies," Rossen said. "My interest in this topic actually came from my first book, Dancing Jewish, which focused on the many ways that Jewish-American choreographers have engaged their identities and histories through dance. There was supposed to be a chapter on Holocaust dances, but I realized that this topic is way too big for a chapter—it's a book! I'm really interested in the unique way that dance can mobilize memories and respond to traumatic histories. How do Holocaust dances set history and the testimony of survivors into motion? How do site-specific Holocaust dances activate memorial spaces or shed light on suppressed histories? How do these dances impact performers and audiences emotionally?"
Rossen teaches dance history, courses focused on gender, race, ethnicity and nationality in physical performance, and graduate seminars in dance studies, performance theory, performance as research and teaching methods. Rossen received the 2015 Regents' Outstanding Teaching Award and Teaching Excellence Awards from the Department of Theatre and Dance and Women's and the Center for Women's and Gender Studies. From 2015 to 2018 she led the Society of Dance History Scholar's Editorial Board and served as editor of the Studies in Dance History book series.  Rossen is a faculty affiliate in Women's and Gender Studies, the Schusterman Center for Jewish Studies and American Studies at The University of Texas at Austin.
Photo by Julie Lemberger