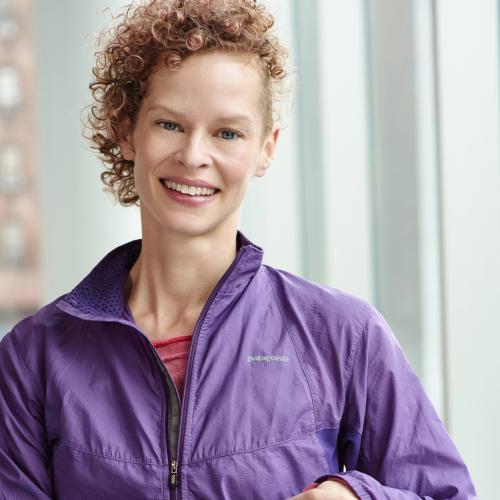 Associate Professor, Dance
Leah Cox loves using dance to explore, learn and connect with others. Cox is a dancer/collaborator in Liz Lerman's latest piece, Wicked Bodies, and a frequent adjudicator for the American College Dance Association. She was Dean of the American Dance Festival from 2015-2022 and served on the New York Dance and Performance "Bessie" Award Committee from 2015-2018. She worked with the Bill T. Jones/Arnie Zane Company for 14 years, first as a company dancer and subsequently as the Company's first education director. Her teaching was featured in the documentary about Bill T. Jones, entitled A Good Man, which aired on PBS nationwide. Dance Teacher Magazine celebrated Cox with a feature story in May 2016. Creating connections between the educational and professional sectors is one of Cox's passions. She is currently developing methods to share Liz Lerman's Wicked Bodies with dancers in university programs nationwide. At Bard College, she created two innovative partnerships: one with the Bill T. Jones/Arnie Zane Company and another with the American Dance Festival. The latter was highlighted in Dance Magazine. Cox has been a guest artist at numerous university dance programs. She relishes each opportunity to be in the classroom with other curious movers.
What do you enjoy most about being a part of the UT Theatre and Dance community?
Collaborating with and learning from my colleagues and students. The people in the department inspire me and offer the kind of support that makes being here a joy.
What is your favorite thing about Austin?
Tacos, great running trails and plentiful public parks. Lastly, widespread use of "y'all." Northeasterners just don't get why this contraction is so useful!
Headshot taken by Jim Lafferty.

Postmodern-based dance practice, composition, theory
Improvisation, Composition, Choreo I, Contemporary Movement Practice
Cox is currently working with Liz Lerman on her latest project, Wicked Bodies. She serves as the Dean of the American Dance Festival, which offers her an ongoing place to create programs for an international student body of all ages.
Contact Information
Campus location
WIN 2.115