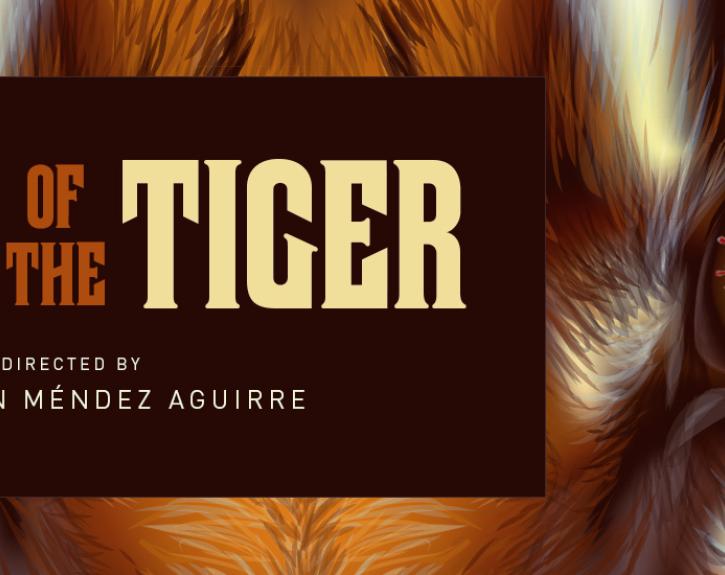 Event Details
March 24, 2021, 7:30 p.m.
March 25, 2021, 7:30 p.m.
March 27, 2021, 7:30 p.m.
Directed by Khristián Méndez Aguirre
On the eve of the anniversary of the COVID-19 global pandemic, a news anchor is preparing for a special transmission commemorating the year that has gone by when she is visited by a tiger who really wants her to get the story straight, no matter what the cost. 
Composed of interviews with workers impacted by the pandemic, viral videos, official declarations and a tiger, Year of the Tiger is a blend of fact and fiction that seeks to respond to some of the troubling and often unbelievable events of the past year. This investigation explores not only the impact of COVID-19 worldwide, but also civil unrest, police brutality and the Trump administration's war with truth. 
This piece was created as a collaborative work by members of the production team in response to recent global events. Special thanks to all involved for their contribution to the development of this work and to those who participated in interviews about their personal experiences with the pandemic. 
Contains mature content. 
Performances 
March 24 at 7:30 p.m. (CST)
March 25 at 7:30 p.m. (CST)*
March 27 at 7:30 p.m. (CST)
Performances of
Year of the Tiger
 have now concluded. Those interested in lending support for this project and the work of Texas Theatre and Dance may do so 
here
. (Please note that this support does not include the ability to stream the performance after live shows have concluded). 
*Join the Conversation
There will be a talkback co-hosted by the Rapoport Center for Human Rights and Justice immediately following the performance on March 25, 2021. Guests who attend performances are welcome to join in this discussion using your ticket code from your preferred performance date. 
This talkback will be included as part of the Rapoport Center's Pop-Up Institute "Beyond the Future of Work," which features conversations within research areas focusing on essential work and the future of artistic labor. This talkback will feature a discussion with Year of the Tiger director Khristián Méndez Aguirre in conversation with Anne Lewis (Associate Professor of Practice, Radio-Television-Film) and Álvaro Restrepo (Co-Founder, El Colegio Del Cuerpo, Cartagena de Indias, Columbia) with moderation by Karen Engle (Co-Director, Rapoport Center for Human Rights and Justice).
Inside Look
---
Titles, dates, artists and venues are subject to change. 
Attend an Event
Helpful links to help you plan your visit:
Purchase tickets and learn more about subscription packages and discounted student tickets.
Get directions and up-to-date information about campus parking and construction impacts.
Learn more about how we're keeping our community safe.
Accessible viewing options are available by request for all our venues.