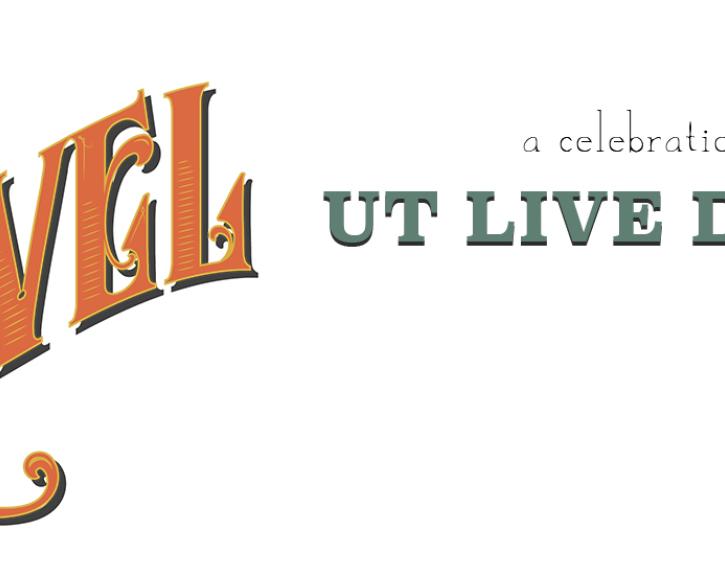 Event Details
April 30, 2018, 9 a.m. to 6 p.m.
May 1, 2018, 9 a.m. to 6 p.m.
May 2, 2018, 9 a.m. to 6 p.m.
May 3, 2018, 9 a.m. to 6 p.m.
May 4, 2018, 9 a.m. to 6 p.m.
May 5, 2018, 9 a.m. to 6 p.m.
May 6, 2018, 9 a.m. to Noon
May 6, 2018, 6 p.m.
REVEL: A Celebration of UT Live Design is a showcase of work created for the stage by the M.F.A. in Design and Technology candidates in the Department of Theatre and Dance. Designers and makers will display their work in areas including costume design and technology, lighting design, integrated media and scenic design. Collectively, this work helps tell visual stories for live performance and is a reflection of the collaborative nature of theatre.
REVEL(RY): Showcase Reception and Fashion Show
May 6, 2018 at 6:00 p.m. 
At the close of the showcase is REVEL(RY): Showcase Reception and Fashion Show. The running time for REVEL(RY) is approximately three hours. This is an open-door event; guests may come and go throughout the duration of the performance. There is no intermission.
Showcase Times
April 30 - May 3 and May 5 from 9:00 a.m. - 6:00 p.m. 
May 6 from 9:00 a.m. - 12:00 p.m.
Ticketing
Admission is free and open to the public. No reservations required.
Parking Information
The University requires all faculty, staff, students and visitors to pay for parking on campus. Visitors are encouraged to park in the San Jacinto Garage and Manor Garage, both within walking distance of the theatres. In addition, there is metered parking available on Dean Keeton/26th Street.
For those attending select performances at the B. Iden Payne, Oscar G. Brockett and Lab Theatres, discounted parking can be purchased online at https://utcofaparking.clickandpark.com/venue. For Theatre and Dance events, select College of Fine Arts/Texas Performing Arts via Click and Park. Discount parking is available for purchase until 10:00 p.m. the day prior to the event.
Dates and venue are subject to change.
Attend an Event
Helpful links to help you plan your visit:
Purchase tickets and learn more about subscription packages and discounted student tickets.
Get directions and up-to-date information about campus parking and construction impacts.
Learn more about how we're keeping our community safe.
Accessible viewing options are available by request for all our venues.