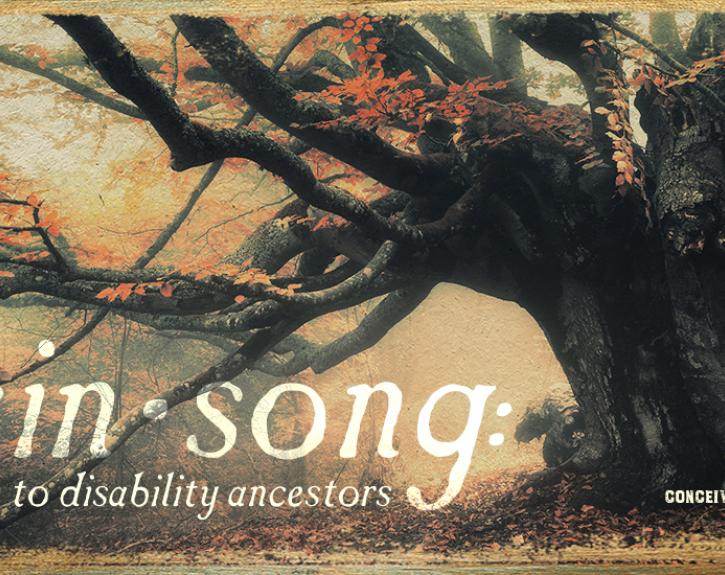 Event Details
Dec. 2, 2021, 7:30 p.m.
Dec. 3, 2021, 7:30 p.m.
Dec. 4, 2021, 2 p.m.
Dec. 4, 2021, 7:30 p.m.
Dec. 6 to 12, 2021, 9 a.m. to 10 p.m.
Virtual Performance
Conceived and directed by Alexis Riley
kin • song: ode to disability ancestors is a digital performance ritual, a cybernetic seance. Through monologue, dialogue, puppetry, song and dance, we will join creative forces to call upon the ghosts of our disability ancestors, waking them from their unmarked graves to join us in an act of mourning, celebration and care. Here, in the sacred timespace of performance, we will name them, claim them and honor their brilliance, all before (finally) laying them to rest. 
This devised production invites us to grapple with the long history of ableism in Austin, in Texas and in the United States. It demands that we answer that history, accepting a kind of responsibility to those who came before. Finally, it asks us to care for their memory and in that caring, dream a more just future. 
Contains mature content and themes. kin • song: ode to disability ancestors engages historical disability trauma. In order to fully address these themes, the production contains brief ableist language and non-graphic images associated with institutionalization.
For additional artwork and accessibility features, visit kin-song.com.
View the kin • song: ode to disability ancestors playbill.
PERFORMANCES
December 2-4 at 7:30 p.m.
December 4 at 2:00 p.m. 
On-Demand: December 6-12, 2021
PLEASE NOTE THIS IS A VIRTUAL EVENT: Performances will be presented online only. kin • song: ode to disability ancestors will be available on-demand December 6-12, 2021. 
Performances of
kin • song: ode to disability ancestors
 have now concluded. Those interested in lending support for this project and the work of Texas Theatre and Dance may do so 
here
. (Please note that this support does not include the ability to stream the performance after live shows have concluded). 
POST-PERFORMANCE DISCUSSION
There will be a post-performance discussion featuring members of the creative team following the 2:00 p.m. performance on December 4, 2021. More information will be made available in advance of the event. 
Click here to view this video on Vimeo.
---
kin • song: ode to disability ancestors is produced, in part, through generous support from The University of Texas at Austin College of Fine Arts Diversity Committee Student Project Grant.
Attend an Event
Helpful links to help you plan your visit:
Purchase tickets and learn more about subscription packages and discounted student tickets.
Get directions and up-to-date information about campus parking and construction impacts.
Learn more about how we're keeping our community safe.
Accessible viewing options are available by request for all our venues.