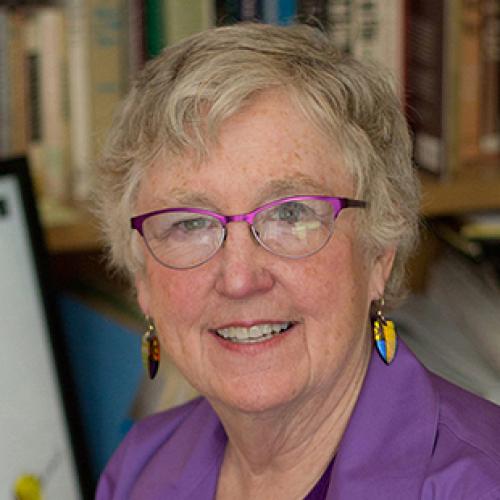 Professor of Playwriting

1991-2003
As a graduate student at Southern Methodist University, Professor Suzan Zeder was encouraged by Professor Charlie Helfert to write an adaptation of Wiley and the Hairy Man, a Louisiana folk tale. That play, now 40 years old, continues to be Zeder's most produced play and helped direct the path of her accomplished career. She is recognized nationally and internationally as one of the leading playwrights for young and family audiences in the United States.
Recruited by former Department of Theatre and Dance Chair Coleman A. Jennings, Zeder joined The University of Texas at Austin faculty in 1991. "At that time the profession really needed a safe place to develop new work," explains Zeder. "The concepts of 'what is a dramaturg' and 'what is new play development' were just dawning on theatre for young audiences. I realized through the resources of my Theatre for Youth Chair that UT could be a home for that developmental work."
Zeder forged UT's New Play Development Workshop, partnering the university with national theatre companies and professional artists to develop new works. Projects included a two-year collaboration on David Saar's The Yellow Boat with Metro Theater Company (St. Louis, MO) and Childsplay (Tempe, AZ); and Wesley Middleton's Tomato Plant Girl jointly premiered at Metro Theater Company and Idaho Theatre for Youth (Boise, ID).
With the untimely passing of UT Professor David Mark Cohen in 1997, Zeder became head of the department's playwriting program. Championing Cohen's commitment to new work, Zeder shifted resources to support student playwrights, using the same professional standards executed in the New Play Development Workshop.
In 1999, Zeder formed a coalition of students, faculty and local artists to imagine a festival honoring Cohen and supporting new plays. The Cohen New Works Festival was born. The biennial event, now one of the largest of its kind in the country, serves as an incubator and celebration for student-generated works in all mediums.
After 22 years at UT, Zeder has placed the Department of Theatre and Dance firmly center on the national stage. As a playwright, she continues to delight audiences of all ages with stories of characters struggling with and conquering real world issues, and she encourages her students to do the same.
Professor Steven Dietz, who Zeder recruited to join the faculty in 2006, shares, "Beware the student playwright who says, in passing, 'I've never written a play for young audiences, but I'm toying around with an idea for one.' I can promise you that this sentence, uttered within 20 feet of Suzan Zeder, will not only result in a play, but with Suzan's remarkable guidance and encouragement, will likely result in a play that will garner awards and acclaim and change the trajectory of that writer's career. The answer to hundreds of questions about the success of 20 years of UT writers is this: Suzan Zeder."