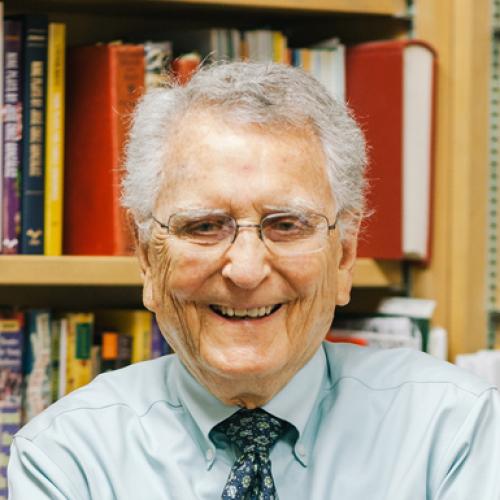 Professor of Drama and Theatre for Youth and Communities

1963-2013
For Dr. Coleman A. Jennings, the art of storytelling has been a lifelong love. As a youth, he spent hours making films for the neighborhood children in his hometown of Taylor, Texas. Play upon play – from the road shows presented along Austin's Congress Avenue to The University of Texas at Austin's touring production of Moor Born presented at his high school – Jennings was captivated by theatre. This passion culminated into a career as a seminal professor in the evolving fields of children's theatre and theatre for youth and communities.
Following his study at Temple Junior College and service in the Army Signal Corps, Jennings first arrived at UT as an undergraduate student in the Department of Drama in 1955. Degree in hand, he worked in the theatre as an off-Broadway stage manager in New York. He returned to UT to pursue a master's degree in directing, and later completed his doctorate in education at New York University.
In the fall of 1963, Jennings joined the faculty of UT's Department of Drama. Fifty years of service later, his imprint on The University of Texas at Austin, its students and patrons cannot be overstated. Jennings helped establish a mandate requiring theatre arts for all Texas elementary school students, ensuring that all children be exposed to the power of the arts.
During his tenure as department chair (1980-1992), Jennings aggressively recruited a diverse faculty including Amarante Lucero, Stephen Gerald, Omi Jones, Judy Dearing, Ted Shine and Whitney LeBlanc. And through his leadership, the department established several new student scholarships as well as the Theatre for Youth Chair held by Professor Suzan Zeder. With these funds, the Department of Theatre and Dance was able to attract and retain talented artists and educators. Jennings has received a Texas Educational Theatre Association Founder's Award, is an inductee into the College of Fellows of the American Theatre of the Kennedy Center and the College of Fellows of the Southwest Theatre Association and in 1997 received a Lifetime Achievement Award from the American Alliance for Theatre and Education. In 2011, he was awarded an Orlin Corey Medallion of the Children's Theatre Foundation of America. This honor recognizes Jennings' significant achievements in theatre that have contributed to the cultural enrichment of children and youth in the United States and Canada.
Although now retired from full-time teaching at UT, Jennings continues to teach. He shares, "Through my years in this profession, I have learned that even more satisfying than creating the stories myself, is teaching others to do it."