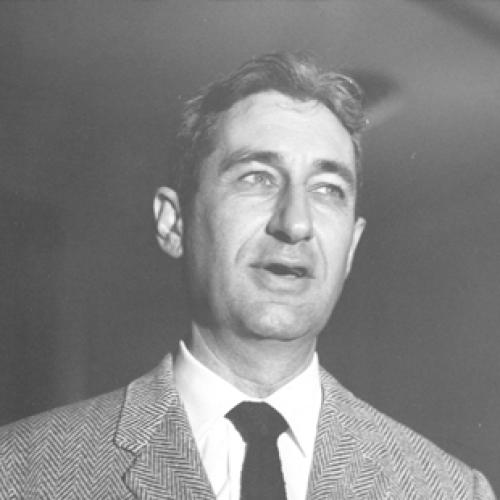 Professor of Directing

1949-1980
Dr. Francis R. Hodge passed away on April 6, 2008 in Austin, Texas, at the age of 92. Hodge was a professor emeritus in The University of Texas at Austin Department of Theatre and Dance and served as professor of directing from 1949–1979. He was presented the College of Fine Arts E. William Doty Award at the college's spring commencement in May 2006. The award was established in 1995 and is the College's uppermost recognition given to individuals of distinction in their fields and/or have demonstrated extraordinary interest in the college.
Among his many scholarly contributions, Hodge supervised more than 100 master's thesis productions and contributed in an editorial capacity to the Educational Theatre Journal and the Journal of Speech. He is also the founder of the American Society for Theatre Research, an organization for theatre scholars that promotes theatre as a field of serious scholarly study and research. Hodge was also a member of the College of Fellows of the American Theatre Association. His published works include: Play Directing: Analysis, Communication and Style, Innovations in Stage and Theatre Design and Yankee Theatre: The Image of America on the Stage, 1825–1850, the latter for which he received the Golden Anniversary Book Award from the National Communication Association.
Hodge received his bachelor's degree in English and history from Hobart College, and his master's and doctoral degree in theatre and drama from Cornell University. While teaching at The University of Texas, Hodge developed the Demonstration Laboratory. The "Dem" Lab was a weekly meeting open to all Theatre and Dance students that encouraged students to present new works to each other. The lab was very popular, but ended after Dr. Hodge retired, due primarily to lack of space for the volume of students who attended each week. In 1984, the Francis Hodge Endowed Scholarship in Drama supporting outstanding directing majors was created in his honor.