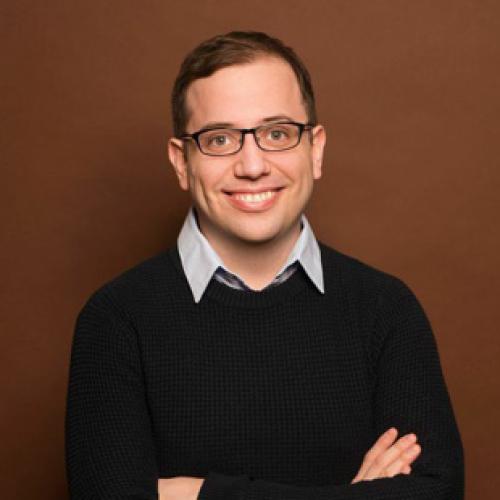 Lecturer, Performance as Public Practice

Cline Curator of Theater and Performing Arts
Eric Colleary holds a Ph.D. in Theatre Historiography from the University of Minnesota. His research has focused on the relationship between performance, history and sexual identity and the ways that archives construct and perform identities over time. Currently, he is working on a book about British interwar theatre.
In his position as Cline Curator of Theatre and Performing Arts at the Harry Ransom Center, Dr. Colleary is responsible for the interpretation and management of the center's extensive performing arts holdings. He serves on the boards for the American Theatre Archive Project (ATAP) and the Theatre Library Association (TLA).
Prior to coming to The University of Texas at Austin, he was a visiting professor in Theatre and Dance at Macalester College in Saint Paul where he taught classes in theatre history, performance theory, sexuality studies and public history/museum studies.
Areas of Expertise
American and British Theatre History, Archival Research Methods, Dance History, Digital Humanities, GLBT and Sexuality Studies, Museum Studies, Musical Theatre History, Performance Studies, Public History, Queer Theory, Theatre Historiography
Recent Talks and Presentations
"Williams at Work: The Glass Menagerie at 75" at the Harry Ransom Center (March, 2020)
Plenary Panelist "The Practice of Public-Facing Scholarship" at the American Society for Theatre Research conference (November, 2019)
"Bardolatry on the Boards: Shakespeare in Early America" for the Hidden Room Theatre at the Neil Cochran House (August 2019)
"Holding Williams" at the New Orleans Tennessee Williams Festival (March 2019)
"Preserving Performance in Special Collections" at the Tsubouchi Museum in Tokyo, Japan (February 2018)
"Staging Uncle Tom: Tableaus on Print, Stage, and Screen" at Columbia University (December 2017)   
Recent Publications
Recent Exhibitions
Tennessee Williams' The Glass Menagerie at 75 (2020)
The Golden Age of Magic Posters (2019)
Inside the Arthur Miller Papers (2019)
Terrence McNally at 80 (2018)
Vaudeville! (2018)
Shakespeare in Print & Performance (2016)
What do you enjoy most about being a part of the UT Theatre and Dance community?
The incredible students in the program - such enthusiasm, passion and talent for what they do.