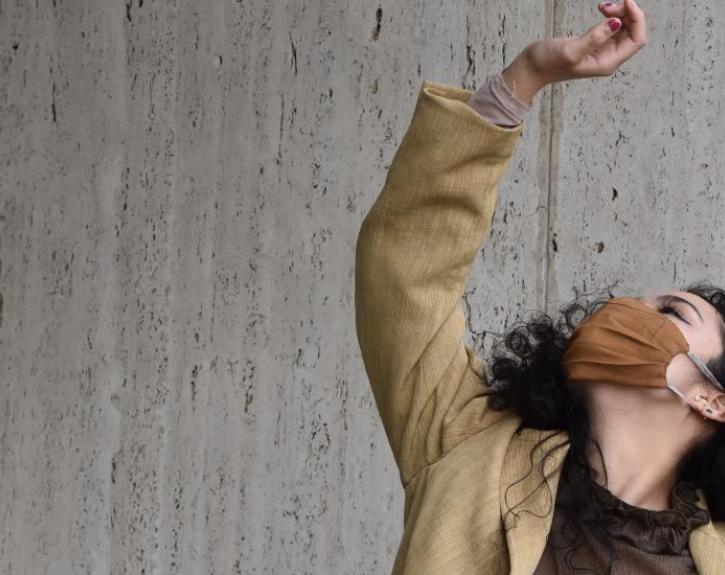 COVID-19 Information and Resources at UT Austin
Find more information about COVID-19 safety policies at The University of Texas at Austin and updates regarding safety on campus. 
COVID-19 Production Safety Protocols
Learn more about how we're keeping our artists, staff and scholars safe. 
The Department of Theatre and Dance is committed to the health and safety of our community, including students, faculty, staff and guests. As the COVID-19 global pandemic continues to evolve, we want to reassure our audiences that we are continuing to monitor the situation and are taking steps to ensure a safe return to in-person performance. 
Should you have questions about our COVID-19 policies, please contact us HERE. If you are interested in additional information about COVID-19 related protocols at The University of Texas at Austin, please find that information HERE in addition to the university's Health Behavior Guidance, located HERE. Infection rates and information related to community spread on campus can be found HERE. 
Guidelines for Guests
In alignment with The University of Texas at Austin's guidelines, Austin Public Health and the Center for Disease Control and Prevention, we recommend the following for all visitors to our theatres: 
Masks
Face masks are strongly recommended inside all university buildings for vaccinated and unvaccinated individuals. This applies to all theatre spaces within the F. Loren Winship Drama Building, including the Oscar G. Brockett Theatre, the B. Iden Payne Theatre and the LAB Theatre. 
SOCIAL DISTANCING
Social distancing is recommended and encouraged when possible for individuals who are not fully vaccinated or who have weakened immune systems.
SANITIZE
We encourage all guests to wash their hands well and often. Avoid touching your face and face covering. Hand sanitizer stations will be available throughout our venues.
STAY HOME
We ask that any individuals experiencing symptoms or who are feeling unwell avoid public gatherings. If you are unwell and need to change your ticket reservation, please contact us directly for assistance. 
VACCINATE
A COVID-19 vaccination for all eligible individuals ages 12 and up is strongly advised.

We strongly encourage regular testing to help reduce the spread of COVID-19. Testing resources in the city of Austin are available HERE(link is external). Testing information and on-campus resources are available HERE. 
Department Safety Policies
We're all in this together, and the Department of Theatre and Dance is committed to doing our part to help prevent the spread of COVID-19. Below you will find our policies to help keep our community safe: 
All members of the cast and crew are tested for COVID-19 before coming to the theatre for rehearsal or performances. Production safety guidelines for mainstage performances can be found HERE. 
 
Masking is strongly encouraged across campus and in all university buildings. 
 
The HVAC systems in the F. Loren Winship Building have been updated in the past five years to include increased airflow and ventilation. 
 
Hand sanitizer stations are available throughout the building at all times. We strongly encourage thorough hand-washing and hand sanitizing regularly for all individuals in our building. 
 
Contactless ticketing for mainstage performances to minimize lines at the box office and reduce the need for the physical exchange of any items in and around the theatre spaces. 
 
Until further notice, all seating in the B. Iden Payne Theatre, Oscar G. Brockett Theatre and Lab Theatre is general admission to allow guests to select their own seats. All Winship performance venues are currently operating at 75% capacity. 
 
Theatre spaces and high traffic areas will be deep cleaned following performances and with increased frequency throughout the building. 
 
Signage with information about safety policies and procedures will be posted throughout the building and in all areas surrounding the theatres.