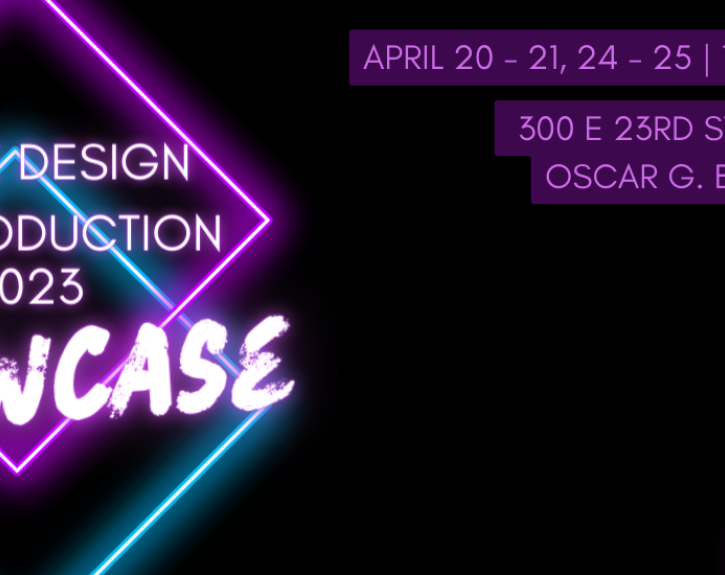 Event Details
Oscar G. Brockett Theatre
UT Live Design and Production Showcase 2023 presents work created for theatre, dance and other performance mediums by M.F.A. candidates in the UT Live Design and Production program as well as B.A. in Theatre and Dance undergraduate students pursuing an emphasis in design and technology at The University of Texas at Austin Department of Theatre and Dance. Areas of work include costume design and technology, lighting design, integrated media design and scenic design. Collectively, this work helps tell visual stories for live performance and reflects the collaborative nature of the theatrical process.
View the digital UT Live Design and Production Showcase HERE
UT Live Design and Production Showcase
April 20-21, 24-25 
Open from 10:00 a.m. - 6:00 p.m. daily 
Admission is free and open to the public. 
The 2023 UT Live Design and Production Showcase will also be available online. More information will be announced spring 2023. 
---
UT Live Design and Production is a master of fine arts degree program that offers graduate students multiple realized opportunities in a program of foundational skills and technique development in Scene Design, Costume Design, Costume Technology, Lighting Design and Integrated Media. We believe that training artists in design for the theatre prepares them for careers as inventors and producers of work in all aspects of live theatrical performance and the related fields of film, television, themed attractions, concerts, events and exhibits – wherever the focus is on the live presence of a human story.
Attend an Event
Helpful links to help you plan your visit:
Purchase tickets and learn more about subscription packages and discounted student tickets.
Get directions and up-to-date information about campus parking and construction impacts.
Learn more about how we're keeping our community safe.
Accessible viewing options are available by request for all our venues.