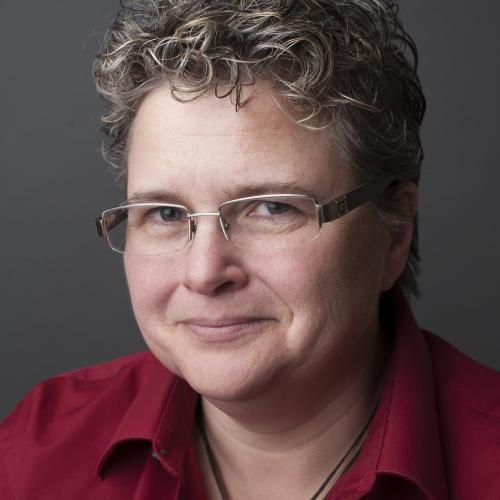 Assistant Professor of Instruction, Performance as Public Practice

Undergraduate Executive Committee Member
Madge Darlington is a founder and co-producing artistic director of Rude Mechanicals (Rude Mechs) Theatre Collective of Austin, Texas and is an assistant professor of instruction in the Department of Theater and Dance at The University of Texas at Austin. A producer and director, Darlington has collaborated with Rude Mechs on commissions and productions for Yale Repertory Theatre, Lincoln Center Theater, Princeton University, New York Live Arts, the Humana Festival of New American Plays and the Black Arts Movement Festival. With Shawn Sides, she co-directed the Rude Mechs' re-enactment of The Performance Group's experimental classic, Dionysius in 69, which was nominated for a Bessie Award for Best Revival. Other credits include serving as technical director and production manager on several national and international tours for Rude Mechs and co-founding and co-directing Rude Mechs' arts outreach program, Grrl Action/Off Center Teens. More recently, Darlington directed Katie Bender's play Judith at Hyde Park Theatre. In the fall of 2023, she will act in Megan Tabaque's Decapitations for Salvage Vanguard Theatre. Darlington holds an M.F.A. in Theatre with a specialization in live design and production from The University of Texas at Austin. With Shakespeare at Winedale, Darlington collaborated on over 30 productions of plays by Shakespeare produced in a 19th-Century hay barn in Winedale, Texas.
What do you enjoy most about being a part of the UT Theatre and Dance community?
I like how this department fosters community among the students, faculty and staff; and I love the emphasis in the department on supporting new works.
What is your favorite thing about Austin?
Friends, BBQ, the Longhorns, swimming holes and breakfast tacos.
Producing/directing/presenting theatre, experimental/ensemble/devised theatre, queer performance, non-profit theatre, Shakespeare through performance, creating a culture of safety in the arts, technical direction, touring, consensus-based decision making
Performance as Public Practice, Dramaturgy, Performing LGBTQ+, The Power of Story, Supervised Teaching in Theatre and Dance
Last Gasp by Split Britches, presented by Rude Mechs, Co-Producer (2023)
Petrificationology by Emma Watkins, The University of Texas at Austin Cohen New Works Festival, Presenter (2023)
Contranyms, Produced by Rude Mechs at CRASHBOX Theatre, Director (2023)
Judith, Hyde Park Theatre, Director (2022)
Contact Information