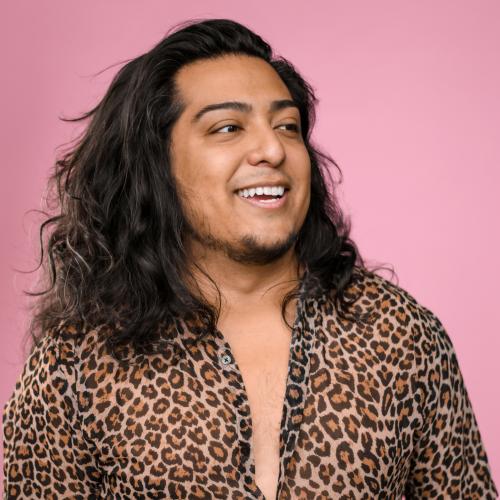 Assistant Professor, UT Live Design and Production
David Arevalo is a Texas born, Mexican, costume maker, designer, educator and artist. His work straddles the intersections of embodied and cultural knowledge, classical and contemporary techniques of garment making and visual storytelling via material sculpture. Through these practices, he is compelled to showcase the experiences of communities that have found themselves underserved by the American artistic canon. The transformation and elevation of ideas, objects and expectations is central to his practice. He has worked as a draper/tailor at the Santa Fe Opera for five summer seasons, for Cincinnati Playhouse in the Park, Fulton Theatre and Merrimack Repertory Theatre, among others. He has taught courses in costume technology at the University of Illinois Urbana-Champaign and created innovative new undergraduate coursework in design and material storytelling at Northwestern University. His costuming work was featured in Unbuttoned: The Art and Artists of Theatrical Costume Design, and his artistic work, a material storytelling sculpture titled Raza Cósmica, was featured in American Theatre magazine. He is a first generation college graduate from San Antonio, Texas, with a B.A. from The University of Texas at Austin and an M.F.A. in Stage Design from Northwestern University.
What do you enjoy most about being a part of UT Theatre and Dance?
I love the feeling that I am returning home to a place that helped to make me the artist I am today. The opportunity to invest and invigorate the best and brightest of Texas' students at this public institution is something that I am immensely excited about.
What is your favorite thing about Austin?
Tacos, the endless blue skies and the constant breeze that makes the heat seem almost pleasant sometimes.
Costume dressmaking, tailoring and fitting for opera and theatre; fabric painting and manipulation; additive and subtractive sculpting; digital rendering and drawing
Fabric Draping, Pattern Making, Tailoring Techniques for Live Performance, Clothing Construction for Live Performance, Costume Crafts
Contact Information