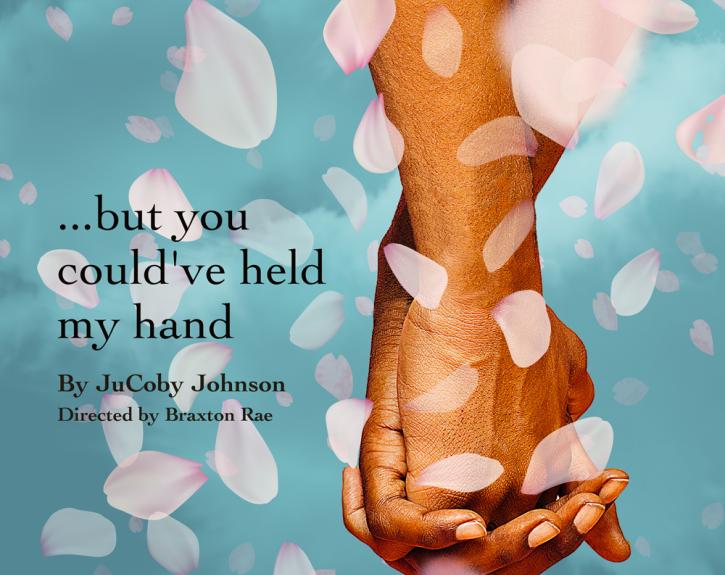 For immediate release:
Media Contact:
Megan Bommarito; 512.232.5328; megan.bommarito@austin.utexas.edu
Images available at:
Password: media
THE UNIVERSITY OF TEXAS AT AUSTIN
DEPARTMENT OF THEATRE AND DANCE
PRESENTS
…but you could've held my hand
By JuCoby Johnson
Directed by Braxton Rae
OCTOBER 6-16, 2022
AT THE OSCAR G. BROCKETT THEATRE
Texas Theatre and Dance is pleased to present …but you could've held my hand by JuCoby Johnson, directed by Braxton Rae. This unique play focuses on four friends who meet as children. Little do they know, they will become the center of each other's lives for decades to come.  Jumping through time, we see these people only during important life moments such as prom, funerals, weddings, anniversaries and even divorces. …but you could've held my hand uses dance, music and poetry to explore sexuality, gender, race, love and blackness in a beautiful meditation on how love manifests in our lives as we experience life's ups and downs. On stage at the Oscar G. Brockett Theatre October 6-16, 2022.
"The thing that most excites me about bringing this production to the UT and Austin community is that this is a radically different play than I think audiences are used to," shares director and M.F.A. candidate Braxton Rae. "This play centers on black wholeness and tells a new, compelling story. I'm excited for the audience members who will finally see themselves and their identities represented on stage in a fair, beautiful way. When I first read this play I was struck by the deep bonds of love between each character. They go through all of the hard life stuff that happens as we age, but through it all their love for each other only deepens. I hope the audience also feels the strong theme of love in this production and that it charges them to examine the ways they nurture love in their own lives."
Braxton Rae (Director) is a current M.F.A. candidate at The University of Texas at Austin and an artist whose creative work and scholarship is focused on blackness, queerness, womanism and marginalized identities more broadly. Additionally, Braxton is passionate about the craft of intimacy work and staging intimate moments while prioritizing care and safety. Braxton's artistic goals are to foster an arts community that focuses on diversity, equity and inclusion. Recently, Braxton directed Always…Patsy Cline at Great River Shakespeare Festival. Braxtonrae.com
…but you could've held my hand features an ensemble cast, including Kobe Williams (Max), Yusef Dixon (Eddie), Faith Anderson (Charlotte/Charlie) and Se'An Boatner (Marigold).  
The production team for …but you could've held my hand includes Demian Gael Chavez (Sound Designer), Jackson Cobb (Projection Designer), Keith Galloway (Composer), Trinity Gordon (Associate Director), Andy Grapko (Intimacy Director), Rodrigo Esquivel Herrera (Stage Manager), Renita James (Dramaturg/Community Engagement), JuCoby Johnson (Playwright), Yvonne L. Miranda (Costume Designer), Leila Rabah (Assistant Stage Manager), Love Muwwakkil (Choreographer), Braxton Rae (Director), Alex Rockey (Scenic Designer), David Tolin (Technical Director) and Amber Whatley (Lighting Designer).  
For more information about …but you could've held my hand, please visit JoinTheDrama.org
CALENDAR LISTING
October 6-16, 2022 – The University of Texas at Austin Department of Theatre and Dance presents …but you could've held my hand by JuCoby Johnson at the Oscar G. Brockett Theatre (300 E. 23rd St.), located in the F. Loren Winship Drama Building. A map of the campus: theatredance.utexas.edu/about/location-directions-parking
Performance times are October 6 at 7:30 p.m. (PREVIEW), October 7 at 7:30 p.m. (Opening), October 8, 12-14 at 7:30 p.m. and October 8-9, 16 at 2:00 p.m. ($26 adult, $21 UT faculty and staff, $15 student; Preview performances: $10 adult, $5 student) are available for sale at F. Loren Winship Box Office and online at JoinTheDrama.org.. Office locations and hours: theatredance.utexas.edu/ticketing
ABOUT TEXAS THEATRE AND DANCE
The University of Texas at Austin Department of Theatre and Dance is a world-class educational environment that serves as the ultimate creative incubator for the next generation of artists, thinkers and leaders in theatre and performance.
ALSO THIS SEASON
In Sisters We Trust,
or My F*cked Up American Girl Doll Play
October 20-29, 2022
B. Iden Payne Theatre
Dance Repertory Theatre presents
Fall For Dance
November 9-13, 2022
Oscar G. Brockett Theatre
UTNT (UT New Theatre)
Producing Artistic Director, KJ Sanchez
Associate Producing Artistic Director, Alexandra Bassiakou Shaw
February 15-26, 2023
Oscar G. Brockett Theatre
Dance Repertory Theatre presents
EMERGE
March 1-5, 2023
B. Iden Payne Theatre
The Cohen New Works Festival
April 3-7, 2023
F. Loren Winship Drama Building
###