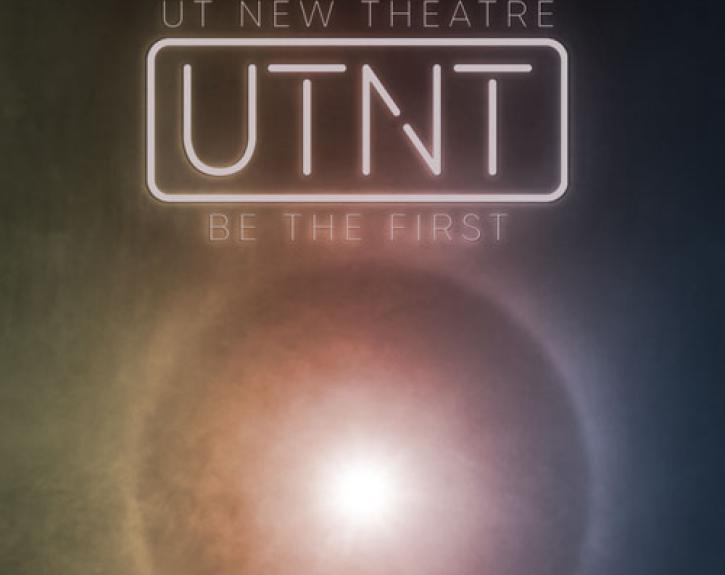 For immediate release:
Media Contact:
Megan Bommarito; 512.232.5328; megan.bommarito@austin.utexas.edu
Images available at:
Password: media
THE UNIVERSITY OF TEXAS AT AUSTIN
DEPARTMENT OF THEATRE AND DANCE
PRESENTS
UTNT (UT New Theatre)
FEBRUARY 18-26, 2023
AT THE OSCAR G. BROCKETT THEATRE
FEATURING NEW WORKS FROM ASCENDING GRADUATE PLAYWRIGHTS
CO-PRODUCING ARTISTIC DIRECTORS KJ SANCHEZ AND ALEXANDRA BASSIAKOU SHAW
Texas Theatre and Dance is pleased to present UTNT (UT New Theatre), February 18-26, 2023 in the Oscar G. Brockett Theatre. Established in 2007 by nationally renowned playwright Steven Dietz, UTNT (UT New Theatre) celebrates is 16th season as an annual showcase of newly developed works for the American stage. Featuring three never-before-seen plays by playwrights of the Department of Theatre and Dance and the Michener Center for Writers at The University of Texas at Austin, UTNT continues to serve as an incubator of powerful new ideas for the stage.
"UTNT brings together students from all theatre-making disciplines to develop new plays from script to stage," share co-producing artistic directors KJ Sanchez (American Records) and Alexandra Bassiakou Shaw (Rude Mechs). "The final piece of each development process, whether it culminates in a production or a reading, is the chance to share the work with audiences. Audiences will be the first to encounter these new works by Zachariah Ezer, Daphne Silbiger and Justine Gelfman. We also expanded UTNT's mission this season to include a play by a recent graduate, Mia Gomez-Reyes (B.A. 2022). While she focused on stage management while at UT Austin, through the interdisciplinary nature of the program she found and nurtured her playwriting voice."
The university's Department of Theatre and Dance and Michener Center for Writers have been heralded nationally as incubators for new work (American Theatre). Notable alumni of these programs include Lisa D'Amour (2011 Pulitzer Prize Finalist, Detroit), Abe Koogler (Fulfilment Center, Manhattan Theatre Club, 2017), Frances Ya-Chu Cowhig (2011 Wasserstein Award Recipient), George Brant (2008 Keene Prize for Literature, Elephant's Graveyard), Kimber Lee (2013-2014 Lark Fellow) and Kirk Lynn (2011 USA Fellow in Theatre Arts; Rude Mechs).
The 2023 UTNT (UT New Theatre) plays include:
Address the Body!
Written by Zachariah Ezer
Directed by Dominique Rider
Half paranoid conspiracy thriller, half Kafkaesque ghost story, Address the Body! takes a bracing look into the banalest of evils: the university bureaucracy. When Cree and Blair, the only two Black members of The Presidential Committee on Slavery and its Afterlife, notice something amiss at their new work-study job, they uncover a racist plot at the heart of America's most prestigious university. Lost African legacies, treasonous Latin mottos, and experimental Japanese technology come together in this Afropessimistic examination of slavery and repatriation.  
Very Blue Light
Written by Daphne Silbiger
Directed by Kristen Osborn
Marfa, TX, 2022--Magna was likely abducted by aliens, but her friends don't believe her. She seeks out the fabled Marfa Lights hoping for answers, and discovers that the secrets of the cosmos are both monumentally far-reaching and disarmingly mundane. Very Blue Light is a play about isolation and doubt, revising relationships, and the implications of the existence of unidentified aerial phenomena.
UTNT (UT New Theatre) 2023 will also include the following readings:
Harold
Written by Justine Gelfman
Directed by Susanna Wolk
Harold follows a college improv team that is disqualified from a national competition because of foul play. When a new member joins the team, she offers an unconventional opportunity to compete. As the team rehearses, they struggle to agree on the same base reality. Harold is a play about long-form improv, consent, saying yes-and, and the thorny complications of saying no. 
Mirror, mirror
Written by Mia Gomez-Reyes
Directed by Simon Salinas
Girls will imitate; girls will learn. What are you teaching them? What have you learned? Stuck in the abstract (or is it?) of a no-woman's-land, the women in mirror, mirror must push you to the brink until you end up exactly where the world won't allow you: Angry.
For more information about UTNT (UT New Theatre), please visit JoinTheDrama.org
CALENDAR LISTING
February 18-26, 2023 – The University of Texas at Austin Department of Theatre and Dance presents UTNT (UT New Theatre) at the Oscar G. Brockett Theatre (300 E. 23rd St.), located in the F. Loren Winship Drama Building. A map of the campus: theatredance.utexas.edu/about/location-directions-parking
Tickets for all performances are now on sale and available online at JoinTheDrama.org or at the F. Loren Winship Box Office. Office locations and hours: theatredance.utexas.edu/ticketing
ABOUT TEXAS THEATRE AND DANCE
The University of Texas at Austin Department of Theatre and Dance is a world-class educational environment that serves as the ultimate creative incubator for the next generation of artists, thinkers and leaders in theatre and performance.
ALSO THIS SEASON
Dance Repertory Theatre presents
EMERGE
March 1-5, 2023
B. Iden Payne Theatre
The Cohen New Works Festival
April 3-7, 2023
F. Loren Winship Drama Building
###