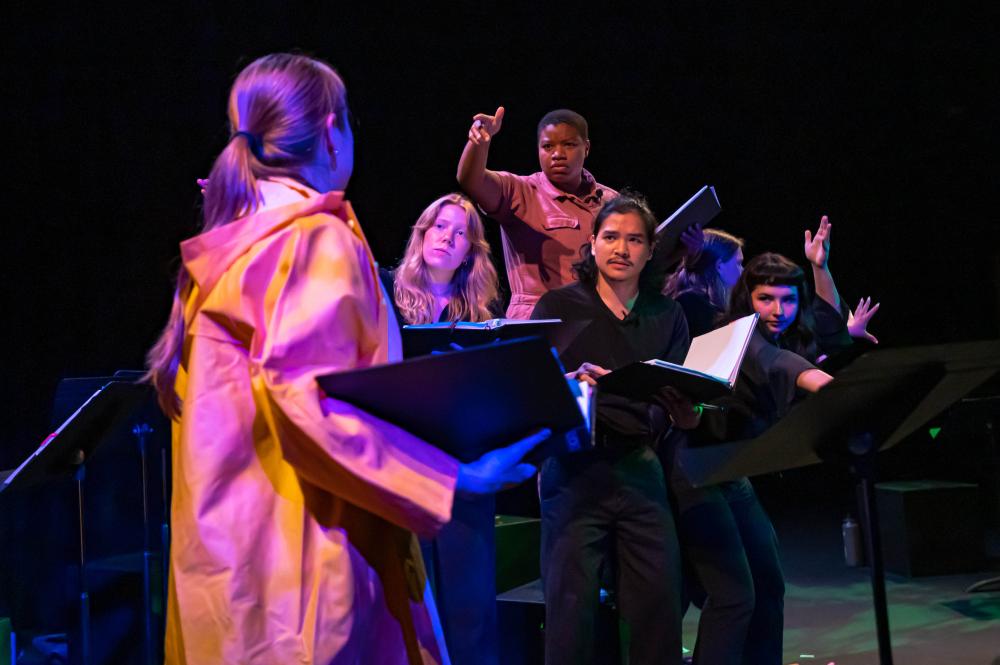 UT Austin alumni Guinevere "Gwenny" Govea (B.A. in Theatre and Dance and Bachelor of Journalism, 2021) and Anna Pickett (B.S. in Youth and Community Studies, 2021) workshopped their new musical Spells of the Sea at Pegasus PlayLab at the University of Central Florida in Orlando, culminating in staged readings on June 4 and 5, 2022.
Spells of the Sea follows a 15-year-old fisherwoman named Finley Frankfurter and an old lighthouse keeper named H.S. Crank as they journey through the ocean to find the Elixir of Life to cure Finley's terminally ill father. Along the way, the pair discovers the meaning of family, friendship and believing in yourself in this theatrical adventure.
Govea first wrote the book, music and lyrics for Spells of the Sea in 2020 during the COVID-19 pandemic. "During the pandemic, I felt the need to travel extremely far away, so I channeled that energy by writing a story on the high seas. At the same time, I was grieving for the many people who died of COVID." While Spells of the Sea was originally written to be staged in person, Govea adapted the musical into a five-episode musical podcast, which was presented in The Cohen New Works Festival (2021) at The University of Texas at Austin under the direction of Anna Pickett.
Over a year later, Pegasus PlayLab provided Govea and Pickett with an eight-day rehearsal process before the theatre for young audiences musical was presented to the public through staged readings. This workshop was conducted in collaboration with Metro Theater Company and the Drama and Theatre for Youth Communities (DTYC) program at the UT Department of Theatre and Dance. Multiple DTYC collaborators traveled to Florida for the reading and workshop, serving in a number of roles during the developmental process. 
UT Theatre and Dance collaborators included:
Megan

Alrutz

 (associate chair and graduate advisor for the Department of

Theatre

and Dance) -

Dramaturg

Michelle

Habeck

 (associate professor) - lighting designer
Adriana Serrano (assistant professor) - production designer

Giana

Blazquez

Bultman

 (M.F.A. 2022) - choreographer
Claire

Derriennic

 (graduate student) - community engagement 

Xinyue

Zhang (graduate student) - community engagement

Renita

James (graduate student) - performer
Following their development at Pegasus PlayLab, Spells of the Sea is set to have its world premiere production at Metro Theater Company in Spring 2023. More information is available about the production at www.spellsofthesea.com and @spellsofthesea on Instagram.
---
Photo 1 taken by McKenzie Lakey.
Photo 2 taken by Megan Ann Rasmussen.