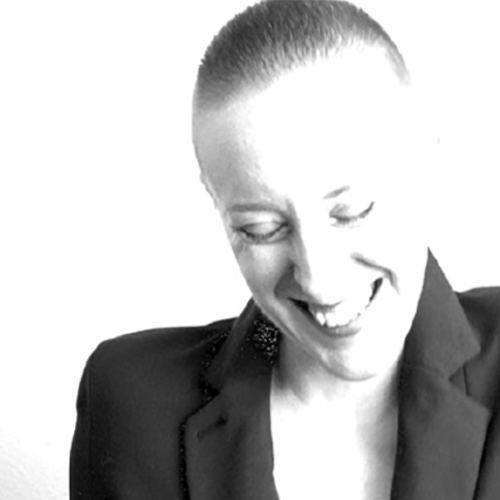 Co-Area Head, Dance

Assistant Professor of Practice, Dance
Erica Gionfriddo is a dance artist, educator and somatic researcher who believes in the intelligent body each of us occupies. They are co-founder of ARCOS Dance (arcosdance.com), whose ongoing inquiry probes the intersection of technology and humanity through rigorous interdisciplinary experimentation. ARCOS' recent work has focused on "hacking" consumer technologies, or repurposing them outside of their intended uses, into performance and developing an embodied cyborgian movement language. ARCOS' experiments in transmedia performance have been presented at festivals and symposia, including the award-winning piece The Warriors: A Love Story (Edinburgh Fringe, Scotland) and Domain (Symposium of Philosophy and Dance, San Marcos, Texas).
Gionfriddo directs ARCOS' professional development and training programming, which supports independent artists through multiple creative and fiscal platforms. Gionfriddo's extensive experience with the GYROTONIC® method guides their pedagogy, which they bring in their capacity as an assistant professor of practice in the dance area at The University of Texas at Austin and as a national teaching artist. Gionfriddo holds a B.F.A. in Dance Performance and Choreography from Shenandoah Conservatory and an M.F.A. in Dance from Hollins University.
What do you enjoy most about being part of UT Theatre and Dance?
The students in the Department of Theatre and Dance are the future peers I wish to engage with in our field. It is a deep honor to facilitate the next generation of dance artists.
What is your favorite thing about Austin?
For a city of its size, Austin still feels like a small town

Dance and digital technologies, multimedia performance, contemporary and modern dance traditions, contemporary ballet, improvisation, cyborg theory, arts administration and producing, GYROTONIC®, graphic design, PR + Marketing
Contemporary Technique, Choreography I and II, Projects in Dance Performance and Repertoire, GYROKINESIS®
Recent Publications
"Cyboreography," chapter in the section "Extending Dance Performance" of The Bloomsbury Companion of Dance and Philosophy (2020)
"Audience as Player: Experiments in Interactive Performance," Texas Arts + Culture, 07/24/18 (web), 11/2018 (print)
Recent Performances
Ether Junk (direction), Emma S. Barrientos Mexican American Cultural Center, Austin, TX. (2019) 
In the Ether (installation, performance), Eleanor D. Wilson Museum Gallery, Roanoke, VA. (2019)
In the Ether (evening solo show), SHIFT Dance Festival, Albuquerque, NM (2018)
The Tower Is Us: BETA - public workshop (interactive performance), Texas State University, San Marcos, TX (2018)
Contact Information
Campus location
WIN 2.132D