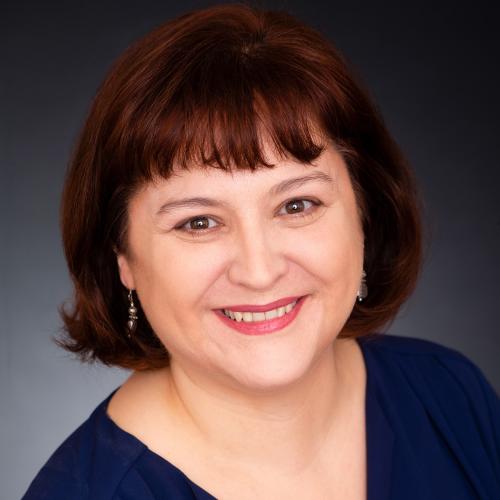 Lecturer, Acting

Graduate Coordinator
Dr. Andrea "Andy" Grapko is a lecturer and the resident intimacy director for the Department of Theatre and Dance; she also serves as the department's graduate coordinator. She holds a Ph.D. in Theatre from the University of Colorado at Boulder and a M.A. with a focus in directing from Miami University in Ohio. She is a Stage Directors and Choreographers Society Associate and a member of the Lincoln Center Director's Lab, the Association of Theatre Movement Educators and The Michael Chekhov Association (MICHA). Grapko is an intimacy director and certified intimacy coordinator through Intimacy Directors and Coordinators. Her experience also includes training with Intimacy Director's International, Intimacy for Stage and Screen and Theatrical Intimacy Education.
With expertise in Michael Chekhov technique and movement, Grapko has been directing for over twenty years. She has trained in Michael Chekhov Technique with MICHA and at the Moving Dock Theatre in Chicago, in Forum Theatre with Augusto Boal, in Laban & Bartenieff Fundamentals at the Denver Center and in Alexander Technique at the University of Colorado. Grapko's research includes her work on Czech theatre director Evald Schorm and his direction of classic texts utilizing semiotic communication to create a forum for political dissent.
What do you enjoy most about being part of UT Theatre and Dance?
I love being in a place where people are constantly innovating, thinking outside of the box and creating. I'm also grateful to be in a department with so many fantastic and supportive colleagues who are not only great people but who are all also doing so many interesting things.
What is your favorite thing about Austin?
It's hard to choose just one - the live and let live attitude in the city, all the great outdoor spaces and activities, the incredible food and, most of all, the amazing live music scene.

Introduction to Improvisational Drama and Fundamentals of Acting
Intimacy, acting, improvisation, movement, Michael Chekhov Technique, directing, Czech theatre
Recent Publications
Interview About Intimacy and Coordination - The Sex Ed Show, hosted by Liz Ross; KOOP, Austin (May 17, 2022)
Recent Performances
Intimacy Coordinator - Clock, director/writer Alexis Jacknow (2022)
Intimacy Coordinator - RAPS, director/writer Cameron Bruce Nelson (2022)
Intimacy Director - Anna in the Tropics by Nilo Cruz, Ground Floor Theatre, Austin (2022)
Intimacy Director - Venus in Fur by David Ives, Way Off Broadway Community Players, Austin (2022)
Intimacy Director - Dot by Colman Domingo, Ground Floor Theatre, Austin (2022)
Intimacy Director - Murky as Hell by Andrea Hart, UTNT (UT New Theatre), Texas Theatre and Dance (2022)
Contact Information