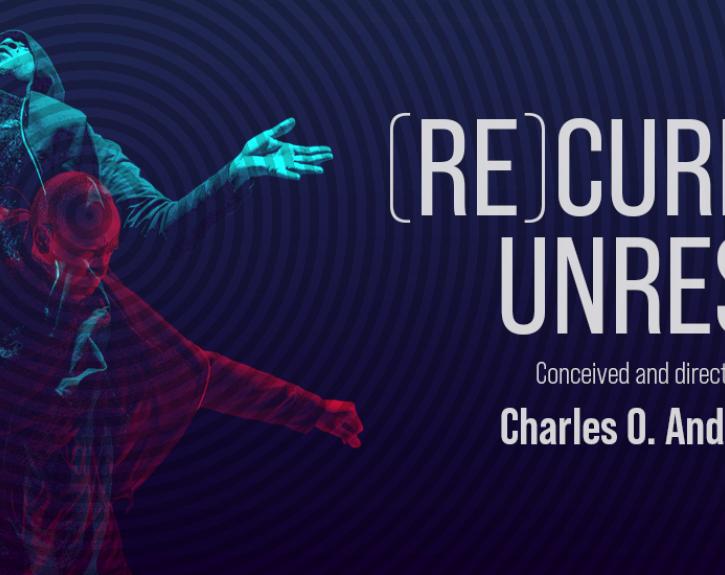 Event Details
Oct. 16, 2020, 7:30 p.m.
Oct. 17, 2020, 7:30 p.m.
Conceived and directed by Charles O. Anderson
Presented in partnership with Texas Performing Arts and Fusebox Festival 
(Re)current Unrest is an evening-length immersive performance installation 'ritual' built on the sonic foundation of Steve Reich's three earliest works: It's Gonna Rain (parts 1 and 2), Come Out and Pendulum. This work, created over a two-year development period, utilizes movement, media and powerful imagery to meditate on the "American Dream" and Black nihilism, born of the current racially charged moment.
An investigation of legacy, authorship and the history of Black art and protest through the lens of the erasure of the Africanist presence in Reich's compositions, (Re)current Unrest explores the kinesthetic state of unrest -  the condition of unease, discontent and social disturbance. This physical state of agitation represents "staying woke." To stay woke refers to an intangible level of awareness about community issues and social justice. 
Contains mature content, themes, language and imagery that some might find disturbing. Suitable for audiences 17+.
Runtime is approximately one hour with no intermission. 
View the (Re)current Unrest playbill.
---
Performances 
October 16 at 7:30 p.m. CST
October 17 at 7:30 p.m. CST
Performances of
(Re)current Unrest
have now concluded. To be added to our listserve to receive project updates on
(Re)current Unrest
, please contact us
here
. 
If you would still like to support this project and the work of Texas Theatre and Dance, you may do so
here
. (Please note that this support does not include the ability to stream the performance).
Inside Look
---
Titles, dates, artists and venues are subject to change. 
Attend an Event
Helpful links to help you plan your visit:
Purchase tickets and learn more about subscription packages and discounted student tickets.
Get directions and up-to-date information about campus parking and construction impacts.
Learn more about how we're keeping our community safe.
Accessible viewing options are available by request for all our venues.