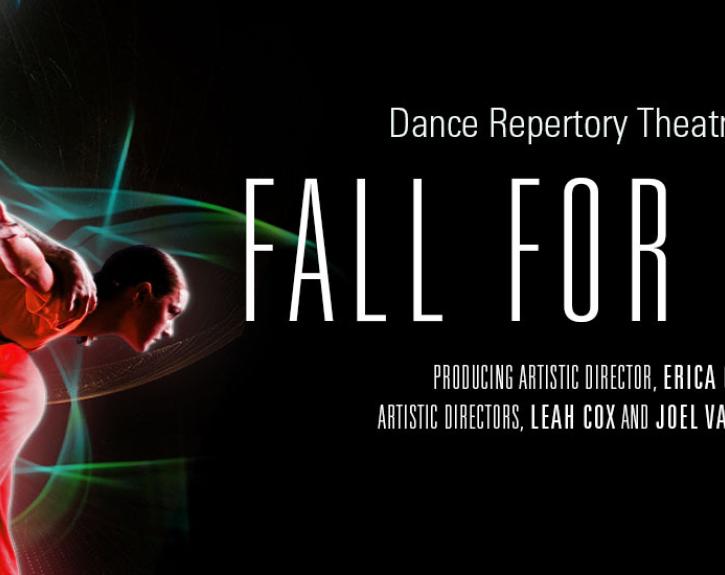 Event Details
Oscar G. Brockett Theatre
Co-Artistic Directors Leah Cox, Joel Valentín-Martínez
Producing Artistic Director, Erica Gionfriddo 
Under the artistic direction of Leah Cox and Joel Valentín-Martínez with producing artistic director Erica Gionfriddo, Dance Repertory Theatre returns to the stage for an in-person celebration of dance, togetherness and connection, presenting poignant new works of choreography. Fall For Dance will feature two unique versions of programming that seek to challenge and expand our understanding of the power of dance to change and transform, as well as an exploration of our collective transition through the COVID-19 pandemic and how we can take lessons learned to the other side of this ongoing metamorphosis. 
---
FEATURED WORKS AND CHOREOGRAPHERS
Concert I - November 10*-14, 2021
Cositas (2011, revised 2019) by Joel Valentín-Martínez
The complexity of being by Hanna Bailey and Cellise Brown
Contronymic Living by Jesse Zaritt
Runtime for Concert I is approximately 65 minutes with one intermission.
Concert II - November 18-21, 2021
Enjoy. by Matthew Deshon James and Ciera Ray
Head in the clou... by Sarah Wales
*my body, (not) my choice by Allison Hamauei
*The Horizon and the Offing by Leah Cox
Runtime for Concert II is approximately 95 minutes with one intermission. Contains mature content, imagery and themes. 
*Concert II (November 18-21, 2021) contains mature content including adult language, simulated nudity and strobe effects/binaural beats. Suitable for ages 17+. 
---
PERFORMANCES 
Concert I
November 10 at 7:30 p.m. *(PREVIEW - This performance is closed to the public.)
November 11-12 at 7:30 p.m.
November 14 at 2:00 p.m.
Concert II
November 18-20 at 7:30 p.m.
November 21 at 2:00 p.m. 
View the program as an accessible PDF here. (Download via external link)  
Click here to view this video on Vimeo.
Reviews and Inside Look
---
Titles, dates and venues are subject to change.
Attend an Event
Helpful links to help you plan your visit:
Purchase tickets and learn more about subscription packages and discounted student tickets.
Get directions and up-to-date information about campus parking and construction impacts.
Learn more about how we're keeping our community safe.
Accessible viewing options are available by request for all our venues.