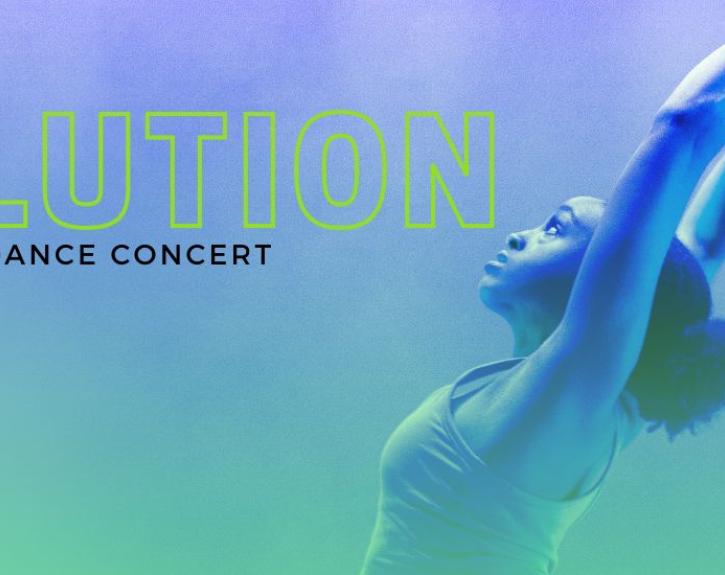 Event Details
B. Iden Payne Theatre
Free and Open to the Public
A collaborative dance concert
Evolution is a collaborative design laboratory facilitating interdisciplinary experimentation in dance performance. Choreographers from the Department of Theatre and Dance join with concert and event lighting designers and composers from the School of Design and Creative Technologies to create short dance works for the concert stage. This public showcase is presented in the B. Iden Payne Theatre each spring.
Performances 
April 20, 2023 
B. Iden Payne Theatre 
Tickets are free and open to the public. Reservations not required. 
---
Choreographers
Lauren Akard
E'ja L. Alexander
Laura G. Anawaty
Lily K. Brown
Rebecca Denise Carrillo
Mia B. Castillo
Jannah M. Collins
Angela G. Cox
Faith N. Davis
Brock D. Gayaut
Jordan E. Gilbertson
Aida L. Hernandez-Reyes
Tori Jewel Hicks
Sheila A. Jackson
Lauren A. Jershin
William A. Kauffmann
Sarah A. Matney
Lexie Andrea Nelson
Andrea Orta
Skyler G. Tepedino
Quocphuong A. Tran
Joylin Wei
---
Lighting Designers
Jayden Chavez
Em Dryer
Matthew Green
Nikolay Korygin
---
Composers
Daniel Benitez
Brant Dureau
Joshua Fick
Andrew Guiou
Dillon Harger
Marion Henry
Jonah Hernandez
Angel "AJ" Jaimes
Carter Lee
Herman "Tito" Rovner
 
Free and Open to the Public
Attend an Event
Helpful links to help you plan your visit:
Purchase tickets and learn more about subscription packages and discounted student tickets.
Get directions and up-to-date information about campus parking and construction impacts.
Learn more about how we're keeping our community safe.
Accessible viewing options are available by request for all our venues.