Event Details
F. Loren Winship Drama Bulding, room 2.112 (
map
)
The Equitable Arts Infrastructure Research Group is made of artists-scholars from seven universities and includes UT faculty Dr. Charlotte Canning and Dr. Paul Bonin-Rodriguez. The group has committed to a multi-year, inter-campus, and cross-disciplinary effort to connect historical conditions of arts labor to the current call for more just and flexible support systems for arts and culture. Those interested in how artists are paid and supported within institutional and networked environments will find this conversation necessary and thought-provoking.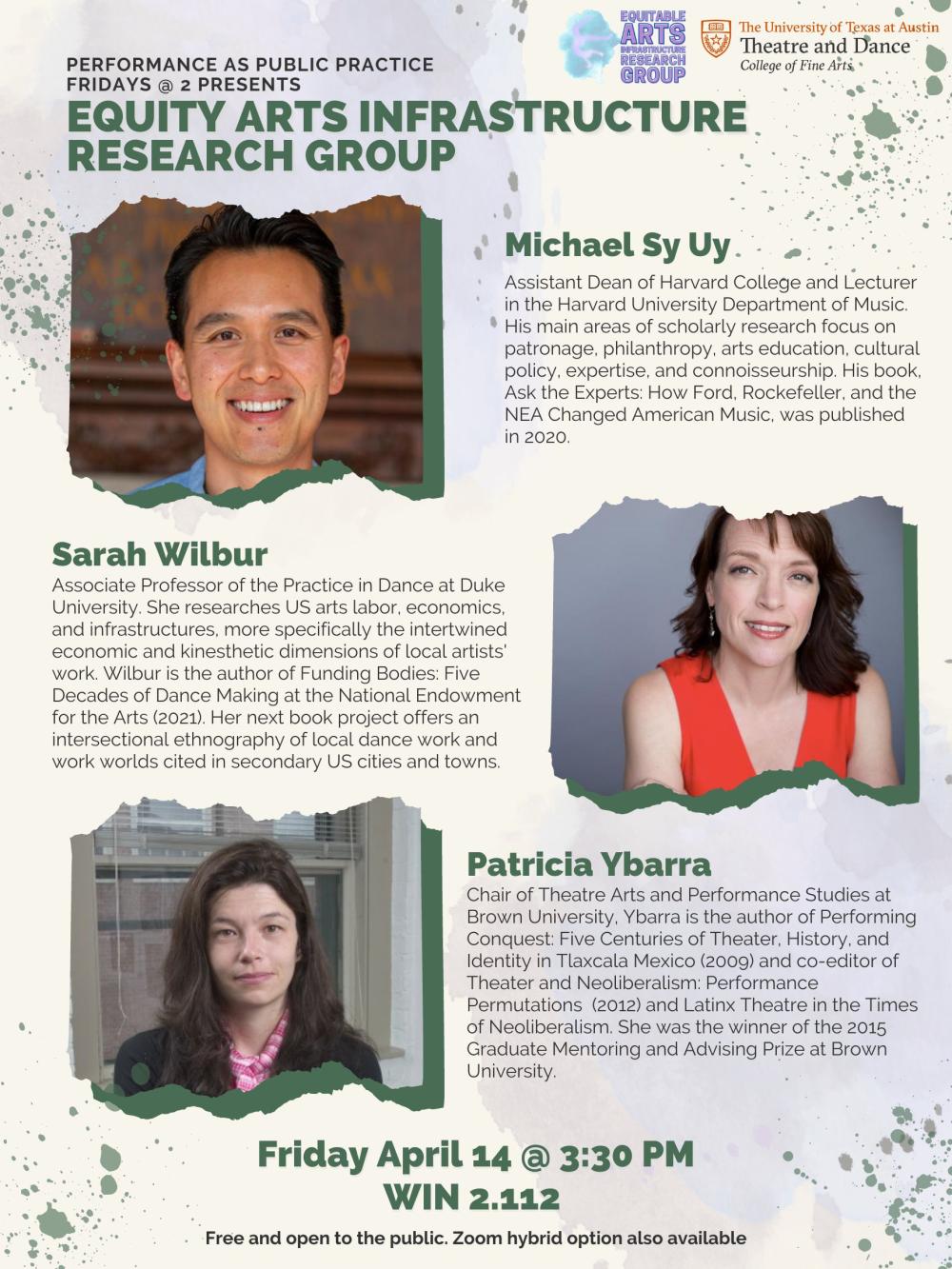 Michael Sy Uy
Michael Sy Uy is an Assistant Dean of Harvard College and Lecturer in the Harvard University Department of Music. His main areas of scholarly research focus on patronage, philanthropy, arts education, cultural policy, expertise and connoisseurship. His book, Ask the Experts: How Ford, Rockefeller, and the NEA Changed American Music, was published in 2020.
Sarah Wilbur 
Sarah Wilbur is an Associate Professor of the Practice in Dance at Duke University. She researches U.S. arts labor, economics and infrastructures, more specifically the intertwined economic and kinesthetic dimensions of local artists' work. Wilbur is the author of Funding Bodies: Five Decades of Dance Making at the National Endowment for the Arts (2021). Her next book project offers an intersectional ethnography of local dance work and work worlds cited in secondary U.S. cities and towns.
Patricia Ybarra
Chair of Theatre Arts and Performance Studies at Brown University, Patricia Ybarra is the author of Performing Conquest: Five Centuries of Theater, History, and Identity in Tlaxcala Mexico (2009) and co-editor of Theater and Neoliberalism: Performance Permutations (2012) and Latinx Theatre in the Times of Neoliberalism. She was the winner of the 2015 Graduate Mentoring and Advising Prize at Brown University.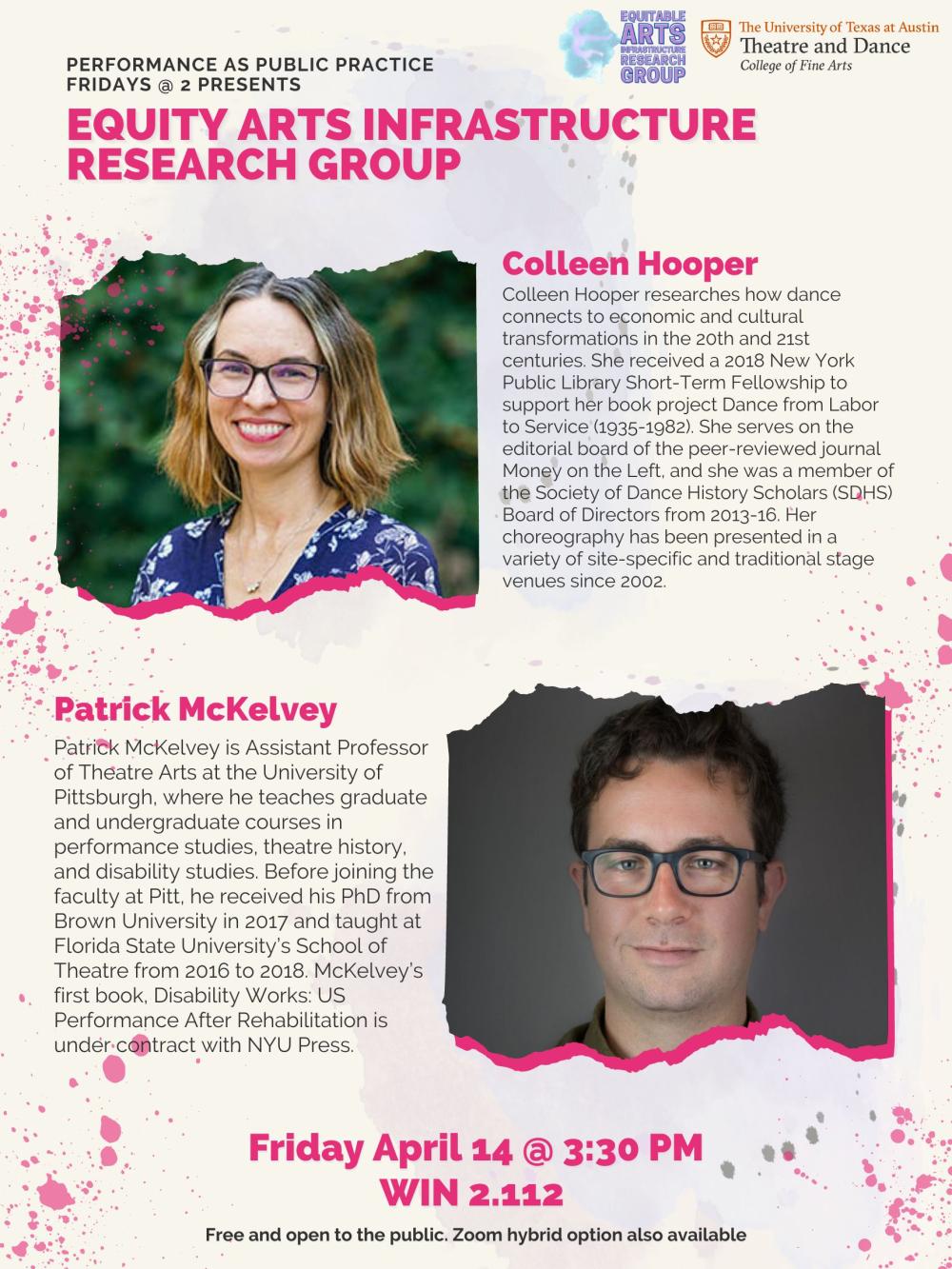 Colleen Hooper
Colleen Hooper researches how dance connects to economic and cultural transformations in the 20th and 21st centuries. She received a 2018 New York Public Library Short-Term Fellowship to support her book project Dance from Labor to Service (1935-1982). She serves on the editorial board of the peer-reviewed journal Money on the Left, and she was a member of the Society of Dance History Scholars (SDHS) Board of Directors from 2013-16. Her choreography has been presented in a variety of site-specific and traditional stage venues since 2002.
Patrick McKelvey
Patrick McKelvey is Assistant Professor of Theatre Arts at the Universitv of Pittsburgh, where he teaches graduate and undergraduate courses in performance studies, theatre history and disability studies. Before joining the faculty at Pitt, he received his Ph.D. from Brown University in 2017 and taught at Florida State University's School of Theatre from 2016 to 2018. McKelvey's first book, Disability Works: US Performance After Rehabilitation is under contract with New York University Press.
---
DATE
April 14, 2023 at 3:30 p.m.
WIN 2.112
Free and open to the public. There will be a virtual option to attend this event via Zoom.
Attend an Event
Helpful links to help you plan your visit:
Purchase tickets and learn more about subscription packages and discounted student tickets.
Get directions and up-to-date information about campus parking and construction impacts.
Learn more about how we're keeping our community safe.
Accessible viewing options are available by request for all our venues.