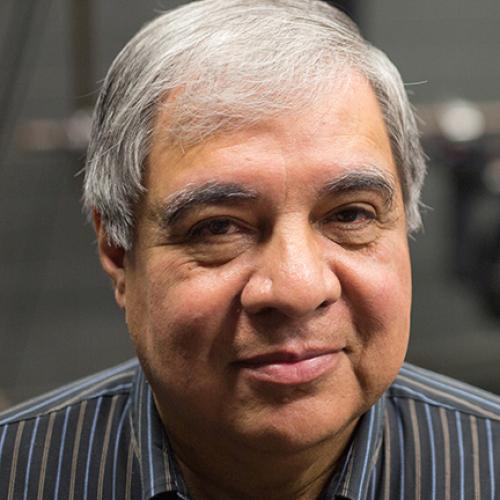 Professor of Lighting Design

1981-2003
If you've attended The University of Texas at Austin's spring commencement in recent years, you've witnessed the artistry of Professor Amarante Lucero and his students. From the graduate processional, to bathing the university's Tower in light, Lucero's team creates imaginative illumination for this momentous occasion. Light is not merely technology, for Lucero and his students, it is a form of emotional communication.
Lucero stumbled upon his career in theatre by chance. Living on a student's shoestring budget while pursuing a psychology degree from the University of New Mexico, he took a position as a stage manager for a local concert hall. The part-time job led to an opportunity to work as a lighting technician for Marcel Marceau. Following the famed mime's performance, Marceau provided Lucero with a generous tip. This encounter, coupled with Lucero's growing fascination with theatrical lighting catapulted him into his career.
Lucero joined the Department of Theatre and Dance faculty in 1981. During his tenure, he has served as a pioneer in lighting design innovation, particularly in the area of automated lighting, cyberspace, and using the digital world in design and production. Through his relationship with High End Systems, Inc., an Austin-based manufacturer of intelligent lighting equipment, coupled with support from former College of Fine Arts Dean Jon Whitmore, Lucero imagined and built an automated lighting program unique to UT. Since its inception in the early 1990s, Lucero has led the program and automated lighting design lab, the only one of its kind in the United States.
Lucero works extensively in Central and South America with groups such as Costa Rica's Centro Costarricense de la Ciencia y la Cultura, International Festival De Teatro Por La Paz and La Compañia National De Danza in Ecuador. He is the director of the Institute for Digital Performing Arts (IDPA) based in Costa Rica, which he co-founded in 1999 with Texas State University-San Marcos Professor Bill Peeler. With programming open to students and educators across the disciplines, IDPA provides concentrated study in emerging technologies and their role in new works in the performing arts.
Following his retirement from UT 2013, Lucero continues his research in cutting-edge technology and works side-by-side with students. Reflecting on his time at UT, Lucero shares "At the end of a performance, I remarked to the audience, 'The work that you're seeing here is their product.' Then I point to the students and say 'They are my product.' It's a very satisfying moment."