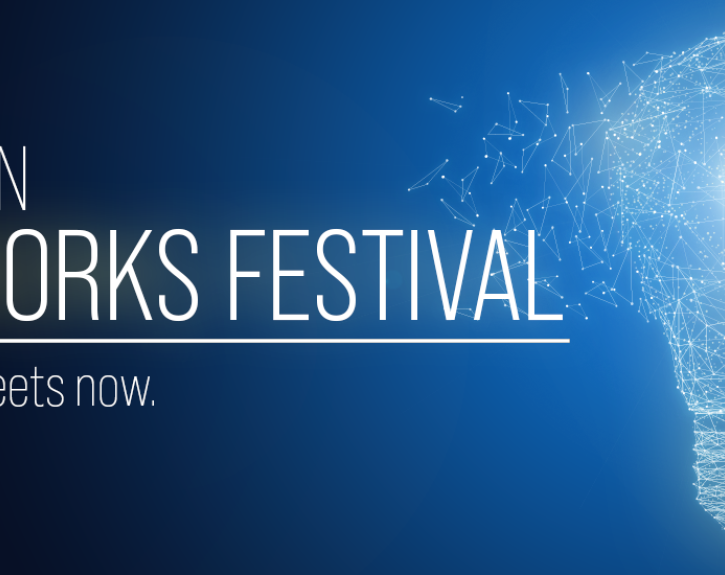 The Cohen New Works Festival is a biennial celebration of new, bold, risk-taking, future-thinking, cutting-edge, no-holds-barred, adjective-filled, original performance! The festival welcomes and encourages artists from any discipline to join us in a week-long celebration of student-led performance.
The Cohen New Works Festival 2021 
April 12-16, 2021
Due to the realities of the COVID-19 pandemic, the 2021 Cohen New Works Festival will be presented as an entirely virtual experience. 
The Cohen New Works Festival LIVE
View the complete schedule of events for each New Works Festival channel, including performances, panel discussions and opening/closing ceremonies.

SCHEDULE OF EVENTS

The Cohen New Works Festival will be streaming across two channels. Please refer to the schedule of events for specific programming.
INTERACT WITH THE FESTIVAL
Learn more about individual projects and access exclusive resources to dig deeper into The 2021 Cohen New Works Festival.

INTERACT WITH THE FESTIVAL
2021 Executive Committee
The Cohen New Works Festival is entirely student-run, making it unique and empowering. The Executive Committee (EXCOMM) is comprised of graduate students, undergraduate students and faculty producers who are responsible for planning and implementing The Cohen New Works Festival.
PRODUCERS
Rusty Cloyes, Dorothy Overbey, Erica Gionfriddo, Kirk Lynn, Nanette Acosta and Patrick Shaw
The Producers oversee all aspects of the festival with the help of the Assistant to the Producers.
ASSISTANT TO THE PRODUCERS
Mike Steele
Assistant: Yessmeen Moharram
The Associate Producers act as a liaison between the Festival producers and the Executive Committee to strategize, organize and oversee all aspects of making the Festival a reality. This position includes planning and facilitating meetings with the EXCOMM and Committee-at-Large, overseeing and participating in application selection, assisting in the coordination of production schedules and maintaining Festival archives for future use.
PRODUCTION MANAGER
Alexis Williams
Assistant: Callie Blackstock
The Production Managers oversee all aspects of the festival with the help of the Assistant to the Producers. They coordinate each venue and all operations during the festival.
IT and TICKETING
Renae Jarrett
The IT Chair will facilitate all things technological, including but not limited to managing the New Works Festival website, creating a managing festival app, facilitating the online festival selection process and creating a ticketing and reservation system for the week of the festival.
MARKETING and PR
Anapaula Guajardo and Vivian Gonzalez
The Marketing and Public Relations Chair is responsible for the branding and image of The Cohen New Works Festival. This committee creates a long-range marketing plan and schedule that coordinates all press coverage, social media strategy and marketing materials for events leading up to and during the festival.
EVENTS
Jasmine Games and Ashley Stone
The Events Committee Co-Chairs are responsible for organizing, planning and hosting all events affiliated with the festival, including but not limited to: the Go! Grant Application announcement, the Go! Grant showcase, the New Works Festival kick-off party, opening and closing ceremonies the week of the festival and guest artist receptions. These positions are responsible for arranging all logistics including invitations, decorations, food and receptions.
TECHNICAL DIRECTOR
Ron Collins
Assistant: Kirk Baltzell
The Technical Director will supervise and provide support for all performance spaces prior to and during the festival in order to help create a productive, effective and safe environment for all involved.
APPLICATIONS
Sam Mayer, Anna Skidis Vargas and Ann Ulrich
The Applications Committee collaborates to form the application and application process that ensures equality and equity in the selection of the festival. The Co-Chairs also answer questions relating to the applications for The Cohen New Works Festival.
GUEST ARTIST
Bridget Caston, Lena Barnard and Andrea Hart
The Guest Artist Co-Chairs are in charge of booking working professionals in fields related to the projects presented at The Cohen New Works Festival. The co-chairs make sure all festival guests receive the highest quality of treatment, so they may enjoy the festival and provide feedback and perspective for the student artists.
DRAMATURGY
Giana Blazquez, Ashley Malafronte and Yasmin Zacaria Mikhaiel
The Engaging Research Co-Chairs will create programing that reflects on the multiple ways that we engage in research and foster new practices of engagement that further promote critical inquiry and collaboration across disciplines.
DEVELOPMENT
Jeffrey Gan, Courtney Manning and Frances Garnett
The Dramaturgy Committee facilitates resource and knowledge sharing to enliven new works beyond the virtual stage. Dramaturgy oversees activities like rehearsal support, moderating panels and talkbacks, and the development and distribution of engaging resources -- all in service of deeper critical inquiry and collaboration across disciplines.   
2021 Festival Lineup
Interactive Performances 
While most performances presented at the 2021 Cohen New Works Festival will take place on the dual streaming channels, a few invite audiences to interact directly with the creative art-making process. These performances will require a reservation if capacity is limited or if audiences will be participating in a Zoom call. 
Cent'anni
Cooking Show
Project Lead: Ashley Malafronte
In Cent'anni, you'll join Ashley Malafronte in her kitchen for both a performance and a more self-directed digital food-memory archive. You're here for dinner; we're here to celebrate one another. Come for the red sauce and stay for a story of loss and evolving identity. This mashup of solo show, food YouTube, audio play and theatrical memoir will take us on a journey through the death of a matriarch, a history of Italian-American identity and more. Oh, and it's a cooking show!
Please note that upon signing up for your free ticket, there will be a brief form confirming your consent to participate in this project. Upon completing that form, you will receive the Zoom link and any other required information. 
This project will take place in the form of an interactive Zoom experience and will not be available to view on the main channels (Brockett/Payne Streams).

There is no set recipe for this event. Upon registration you will receive a list of suggested recipes, but feel free to make your own! 
---
The Cookbook Project
Interactive Theatre
Project Lead: Lena Barnard
The Cookbook Project is made of recipes. These recipes are like any other recipe, with lists of ingredients and instructions on how to make something with your friends and family. But instead of making a pie or lasagna, these are recipes for plays. By following along with a Cookbook Project recipe, you too can make a piece of brand new, never-before-seen theatre! Perfect when enjoyed with a small group of loved ones.
Please note that upon signing up for your free ticket, there will be a brief form confirming your consent to participate in this project. Upon completing that form, you will receive the Zoom link and any other required information. 
The Cookbook Project will be presented as an interactive group experience held on Zoom. Guests will be asked to sign up in teams of two to five by booking a free ticket for one of the performances using the links above and completing the included form. 
---
Home Edition
Interactive Experience
Project Leads: Mike Steele and Josiah Turner
Home Edition is an interactive, at-home theatergoing experience. Miss the little things about seeing live art in person? Home Edition delivers it right to your door in a box! In a handcrafted kit, players will find instructions, an audio guide and several interactive props to help them create a communal playgoing experience right at home. Amidst a year full of Skype gatherings and Zoom meetings, Home Edition aims to be a literal gift to awaken the senses and pay homage to the experience of live performance. Part game, part ritual and part immersive storytelling, Home Edition invites YOU to be part of the action! Ideally enjoyed with a pod of 2-5 people.
Please note that upon signing up for your free ticket, there will be a brief form confirming your consent to participate in this project. Upon completing that form, you will receive the Zoom link and any other required information. 
Pickup times for boxes will be made available upon registration. Quantities limited.
---
Selamatan for Austin, 20-21
Part Cooking Show, Part Zoom Ritual
Project Lead: Jeffrey Gan
Part cooking show and part synchronized Zoom ritual, Selamatan for Austin, 20-21 explores how food and cooking can connect and heal a fractured community. This project will produce several interviews between Indonesian-American artist Jeffrey Gan and his friends and family, exploring the labor and stories embedded in the preparation of Indonesian food in the diaspora.
During the week of the festival, audiences will be able to view these videos as part of the virtual Cohen New Works Festival. A limited number of audience members will also receive a cooking lesson and blessing through Zoom, complete with a pre-packaged box of ingredients. Drawing upon influences from Javanese selamatan meals, Buzzfeed recipe videos and the Bon Appétit Test Kitchen scandal, Selamatan for Austin, 20-21 asks us to acknowledge the embodied labor of food preparation, to question the construction and consumption of "ethnic" cuisine and to heal ourselves and each other by sharing delicious food.
Please note that upon signing up for your free ticket, there will be a brief form confirming your consent to participate in this project. Upon completing that form, you will receive the Zoom link and any other required information. 
For the cooking class performance only: Pickup times for boxes will be made available upon registration. Quantities limited.
---
Streamed Performances 
All performances are available for free and open to the public. Please note that all reservation pages linked below are for the purpose of creating a calendar reminder for your New Works Festival experience. Reservations are not required to stream the productions appearing on either the Brockett or Payne streams.
_____'s Space
Dance Movement Anthology
Project Leads: Victoriana Loper, Bridget Caston and Cellise Brown
_____'s Space is a dance/movement anthology series that explores the relationship between the self and our physical environments - how our physical spaces reflect who we are and, in turn, how the spaces we walk through become reflected in us. Our audience is invited into a space personal to each of our nine generous dancers through their testimonial interviews, dance on film solos and a live Zoom call the week of the festival that will place nine squares holding nine movers in nine personal spaces in direct relation to you, your context and your space at one moment in time. What happens to our bodies when we no longer just move through our spaces, but begin to engage deeply with them? Would we then better care for ourselves and our community?
---
Beyond the Wall
Dance Film
Project Lead: Ivana Castañeda
Beyond the Wall is a dance film that seeks to provide a platform for underrepresented Latinx voices and explores the shared experience of being Latinx in the United States. Four dancers address three interrelated aspects of generational immigration: the limitations of language, the elusiveness of opportunity and the weight of trauma. The aim of the project is to interrogate the idea of the "American Dream" and think critically about how these three aspects can define and redefine this core motivation of Latinx immigration. Ultimately, we pose the question: What is the American Dream?
---
Buddy Bailey's Big Break
Social Media
Project Lead: Matthew Schulz
Buddy Bailey is a charismatic lovable elephant. He's just a big fella trying to find peace and happiness in this crazy world. Follow along all week on social media as Buddy finds buddies and gets his big break!
---
Collecting Dust
Dance
Project Lead: Lindsay Ball
Collecting Dust is an installation-based movement project. It explores movement of physicalized social media through the lenses of queer, female and non-binary dancers.
---
Come Winter's End
Play
Project Lead: Alex Passanisi
When the power goes out in Opal, Joan and Edith's house during an unnatural snowstorm, the roommates are forced to find warmth in each other if they want to survive molding pickle jars, impromptu puppet shows and the rapid decay of their sanity. Livestreamed from inside their home, Come Winter's End follows three women's dissent into true friendship and honest connection against the backdrop of warped reality and melted time.
Contains mature content including strong language, references to death and depictions of anxiety and depression. 
---
Ctrl
Play
Project Lead: Trinity Gordon
We all know how it is to be stuck. Stuck trying to control the outcomes, doubting our abilities and fearing not being good enough. What does it mean to confront your control, your doubts and fears? What does it mean to embrace pain, frustration, joy and love? In a series of monologues, follow along as we experience what it is to bring yourself out of the shadows of uncertainty and discover that control is just a fantasy.
Contains adult content and themes including mention of self-harm/suicide, mental illness, depression and anxiety. 
---
The Hanging Stranger
Opera
Project Lead: Monte Taylor
The Hanging Stranger is a video opera inspired by the short story of the same name by Philip K. Dick, viewed through a series of short clips representing multiple narrative perspectives. A small town becomes fraught with paranoia as it is beset by an apparent invasion of sentient insects. The already fragile social bonds between the town's residents are tested as they take increasingly desperate measures to protect their way of life.
Contains mature content including mention and/or depictions of mental illness, animal abuse, blood, graphic injury, death, racism, lynching, sexual abuse, self-harm, torture and genocide. 
---
Lady Party
Radio Play
Project Lead: Anna Skidis Vargas
A raunchy radio play about sex, multi-level marketing, mixed identity and lactose intolerance by Anna Skidis Vargas. Lady Party takes you through an Entirely Romantic sales consultant's roster of vibrators and awkward dates. You'll laugh! You'll cry! You'll… maybe want to buy a bunch of dildos?
Contains adult content and strong language. 
---
Manufacturing Female
Dance
Project Lead: Sarah Wales
Manufacturing Female is a dance/art film exploring various pressures placed on women and the adaptations acquired in response. This piece shares the experiences of four individuals through movement solos accompanied with four corresponding paintings dealing with abstraction on the same theme. The solos focus on adaptability, strength, hiding and gender performativity.
---
Margot and Mr. Snooze
TYA Muscial, Pre-Recorded Performance
Project Lead: Jake Young and Justice Von Maur
Margot cannot figure out why her dad won't get out of bed! She is on a mission to get her dad up and playing, drink her first cup of coffee and beat the world record for putting the most pairs of underwear on in 30 seconds. This TYA musical explores mental health from the perspective of Margot, a nine-year-old girl, as she and her dad battle their inner monsters. Book and lyrics by Ann Marley with music by Kevin Mucchetii.
Contains adult content and themes including depictions of depression. 
---
Memory Box
Play
Project Lead: Attia Rasul
Memory Box is a fantastical dramedy about two Muslim-American sisters, Asia and Sana. Asia was in a car crash and lost her memory at age 10, and since then she lives in two realms: the dreamworld and the real-world. In the dreamworld, fantastical events occur, where real and false memories all live simultaneously. In the real world, Asia seeks the truth about her past but her sister, Sana, is reluctant to dive into family secrets. As she digs deeper, her two worlds collide—threatening her sanity. Will she move on without ever knowing her past or risk everything to know what happened before the accident, changing her life forever?
Contains depictions of memory loss/amnesia, car accident sounds and lights, minimal flashing lights, discussion of the loss of loved ones and miscarriage. 
---
Mucho Poquito
Radio Play
Project Lead: Anapaula Guajardo
Set in a border town of South Texas, Mucho Poquito is a devised radio-dramedy about Penelope, a Mexican single mother struggling to accept the new world views of her culturally assimilated daughters. As Victoria enters her teenage angst phase and Alejandra, the rock of the family, plans to leave home for college, Penelope must learn to redefine her meaning of family loyalty and unconditional love.
Contains adult content and strong language. 
---
Muñe
Concert Performance
Project Lead: Jane Palacios
Muñe is a musical performance questioning the line between "concerts" and "performance art." Featuring entirely original music, Muñe explores yearning, grief, the dramatic mundane reality of mental illness and self-acceptance.
Contains adult content and themes including discussion of mental illness, abuse and self-harm. 
---
oh sh!t
Dance Film
Project Lead: Allison Hamauei
oh sh!t is a one-womxn show about reclaiming the body, time, space and energy through fiddling, fidgeting and f*cking with itchy ideas. It is about building a container for all identities—past, present, future—to exist simultaneously and to suspend reality. The brain will be turned inside out and dunked into a bucket of acid, causing a range of emotions from confusion, excitement, validation and possibly disgust…
Contains mature content, strong language, mentions of rape/sexual assault, depictions of mental illness: OCD and depictions of blood. 
---
Our Stories Heal: Mind, Body and Soul
Dance and Digital Storytelling
Project Lead: Courtney Manning
Due to the persistent, unjust issues of racism and critical concerns for the mental and physical health of BIPOC people, this project invites youth from the Settlement Home for Children in Austin, Texas to become critically conscious and collectively devise, create and perform in a dance and storytelling full-length virtual performance. This performance will focus on the needs and importance of mental health that the youth envision for themselves and their community. Through this project, our hope is that people will become more aware of the perspectives that youth have on mental health and how the arts can serve as a tool to support and heal communities of color.
Contains adult content including mentions of childhood trauma, depression, anxiety, PTSD and abuse. 
---
A Pregnant Pause
Radio Play and Silent Film
Project Lead: Roberto Soto
Trying to keep spirits light, Gabriel faces the complexities of coming "home for the holidays" with his divorced parents, younger brother, Alán and pregnant sister, Yaritza. This project will be presented as a live radio play with a captioned experimental/silent film of vignettes.
Contains mature content including language, discussion of abortion, miscarriage and mental illness. 
---
Riverside Dr.
Photography Installation
Project Lead: Madison Cooper
When exploring Riverside Dr. in Austin, you might encounter East Riverside Drive, a road that stretches through communities and across I-35. If you continue to scroll, you'll most likely stumble across articles entitled 'Most Dangerous Neighborhoods in Austin' warning visiting tourists to limit their time there. However, Riverside, as well as several other communities in East Austin, is home to a large population of BIPOC families and individuals. This inadvertently (or possibly advertently) labels these communities as being "dangerous" as well.
Riverside Dr. aims to dismantle these toxic associations with Riverside and East Austin communities. This body of photographic work captures the East Austin area for what it truly is: a community. These photographs capture the people who live in these areas as well as some of the spaces they inhabit.
Contains adult content and themes including mention of racism and depictions of homelessness. 
---
"Spar" Xpress VIBE The Bigger Picture
Dance
Project Lead: Jarell Rochelle
COVID-19. Pandemic. The presidential election. The University of Texas. Lockdowns. Dance. Xpression. Slavery Wounds. Genocide. Blackness. Whiteness. Mixed. Family. Life. Love. God. Home. Heaven.
The year 2020 was a period unlike any other experienced by mankind. While there was a polarizing sense of doom lingering in the air, there was also a unique upside; the world was finally in a state of vulnerability. It has been said a person can only begin to heal when the desire to heal is met with a sense of unadulterated transparency and courage to venture into the dark night of the soul. 2020 cried out very loudly to humanity, "Do you know you need to heal?," "Do you want to heal?" and "What is holding you back?" Did we hear her? Did we listen? Did we give ourselves time to process and grieve the tragic events that happened to us? All of humanity experienced some kind of hardship during the course of these events and what seemed to be a series of tragedies actually serves as the paradigm shift of the collective conscious; the needing of emotions to be fully Xpressed. "Spar" Xpress VIBE The Bigger Picture examines these events through the Xpression of ubiquitous truth, unashamed honesty and unbridled love in the form of movement, dance and interdisciplinary art modalities.
Contains mature content including adult content and themes. 
---
Spells of the Sea
TYA Musical
Project Leads: Guinevere Govea and Anna Pickett
Finley Frankfurter is a 15-year-old fisherwoman. H.S. Crank is a grumpy old lighthouse keeper. Together, this unlikely pair journeys through the ocean to find the Elixir of Life, an elusive remedy for what is ailing Finley's father. Along the way, they discover the meaning of family, friendship and believing in yourself. Discover the Spells of the Sea in this five-episode musical podcast for the whole family!
Contains adult content and themes including discussions of death and the loss of a loved one. 
---
Talk of Graves
Short Film
Project Lead: Nick Saldivar
Talk of Graves is a series of four short ghost stories that work as a cycle of discovery, anger, acceptance and release. Each story tackles a different genre of ghost story and is laced together using song and scents. This show has everything from demonic Furby's to emotional goodbyes. This production is a filmed one-man show performed by Nick Saldivar, directed by Anna Pickett with music written by Gwenny Govea and lighting designed by Libby Jantz.
Contains adult content including discussion of guilt, death and terminal illness. 
---
Therapie Au Chocolat
Dance
Project Lead: Tiffany Merritt-Brown
Therapie Au Chocolat is a site-specific, multi-dimensional work that explores black humanity. The work looks at dehumanization, trauma and pain through the physicality of emotion, breath and kinesthetic empathy. The work is emotionally charged, exhibiting the duality of painful survival and transcendent healing.
---
This Is Life
Short Web Series
Project Leads: Frances Garnett and Kathy Guerro
"Recovery has never been a straight line but rather always a roller coaster of different challenges leading us right back to base-line." -Unknown.
This Is Life is a short web series that gives us a glimpse into the lives of two college students, Devina and Pam, in different stages of out-patient treatment for eating disorder (ED) recovery. This project prioritizes its characters' emotional journeys – including their varied experiences with family, identity, hazing, romanticize and social media – to avoid triggering content and ultimately tell a story that gives people with ED's hope that recovery is possible, despite its ups and downs.
Contains mature content including instances of flashing lights, adult language and themes including depictions of eating disorders.  
---
Under the Same Roof
Dance Film
Project Lead: Angelica Monteiro
Under the Same Roof is a dance short film that follows four humans in different parts of the world over the course of a dinner party. By the table, they debate what it means to exist and resist in the 21st century, exploring their singularities and collective identities. That is, until they have to confront their biases and oppressors that take the form of parasitic masks that try to make them the main course of the night. What is it like to live under the same roof as yourself?
---
Videoessay
Devised Theatre
Project Lead: Zachariah Ezer and Braxton Rae
video essay (noun): a piece of media that takes advantage of the structure and language of film to advance an argument.
Videoessay (play): devised theatrical exploration of meaning. A thought about a thought. What does the content we watch say to us? And what does it say about us?
---
Ongoing Events and Installations
The Festival features a series of ongoing installations and exhibitions that you are welcome to join at any time. These sites exist as separate websites and feature unique, virtual experiences. 
Breadcrumbs
Interactive Website
Project Lead: Kristen Osborn
Breadcrumbs is an audio experience that takes audience members on a journey exploring the boundaries of physical and spiritual nourishment. Sifting through gathered memories of childhood meals, the ingredients of joy, grief and love come together to make a meal of shared connections.
View the Breadcrumbs virtual installation
---
Chlorobo
Interactive Website
Project Lead: Benjamin Randall
What does it mean to be alive? Follow Chlorobo across the Internet in a search for meaning.
Elemental Media
Interactive Installation
Project Lead: Michael Bruner
Elemental Media is a continuous week-long live-stream of a backyard garden in full spring bloom - an ongoing interactive installation that bridges virtual and material mediums, a space for community members to gather and engage with one another.
---
The Mad Maps Project
Digital Performance Archive
Project Lead: Alexis Riley
The Mad Maps Project is a digital performance archive that explores the use of psychiatric language in unexpected places. As you browse the aisles of our virtual grocery store, you'll uncover a crazy collection of mad, insane and manic products, all curated for your consumption. Perhaps you'll find a bottle of Crazy Water™, or pick up a box of Umpqua Oats Insane Grains™ cereal, or grab a Manic Mellon Monster™ energy drink. Whether you're shopping for something specific or simply looking to browse, our shelves are fully stocked! Through monologue, dialogue, poetry, puppetry, music, dance and visual art, this multimedia project asks us to consider how everyday encounters shape our relationship to mental health, mental illness and/or mental disability and how we might imagine those relationships otherwise.
Contains adult content and themes including discussion of mental illness. 
View The Mad Maps Project virtual experience
---
A Normal Misfortune: More or Less the Story of Iphis
Dance Theatre
Project Leads: Libby Carr, Allison Hamauei, Mack Lawrence and Yessmeen Moharram
Iphis is madly in love, but can't have sex until the gods make her a boy. A Normal Misfortune: More or Less the Story of Iphis, is a 21st century dance theatre adaptation of chapter 10 of Ovid's Metamorphoses. An exploration of obsessive romantic desperation, arbitrary markers of masculinity and the space between binaries, A Normal Misfortune: More or Less the Story of Iphis is a whirlwind dance of queer love.
Contains adult content and themes. 
View A Normal Misfortune performances on TikTok
This performance will take place on TikTok. Viewers will not need to create an account or download the app in order to view this production. 

For users with a TikTok account:
You can find the performance by searching for the username: normalmisfortune. Begin at the top of the feed and scroll down. Feel free to interact with the project by liking, commenting or duetting the videos. 

For users without a TikTok account:
Viewers without a TikTok account (and who would prefer not to create one) are able to view this project via web here. Begin at the first video and click the right arrow to navigate through the full performance.