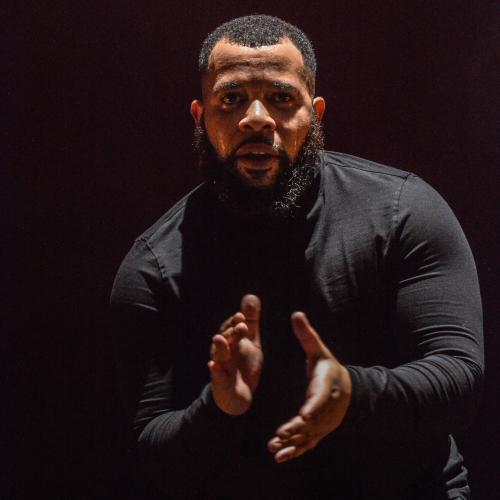 Ryan K. Johnson is a Black and Indigenous hybrid from Baltimore, Maryland, providing a multifaceted experience promoting an understanding and appreciation for percussive dance. His mission is to raise awareness about social and economic issues directly affecting marginalized communities through historically informed performances, dance engagement activities and art-integrated youth programming. He aims to archive percussive dance's history and vocabulary while re-establishing it as a vital part of academia, movement studies and concert dance. Johnson lives at the intersection of tap dance, stepping, body percussion, sand dance and gumboot infused with technology, storytelling and instrumentation. He merges his education, performance and community outreach expertise to advance respect for Black vernacular percussive dance and raise admiration for the genre as a vital part of concert dance and academia.
Johnson is the founding executive artistic director of SOLE Defined (SD) Percussive Dance company, Washington Metro area's leading arts organization specializing in percussive dance – using the body as an instrument to create musical expression. SOLE Defined's programs include local, regional, national and international engagements and services. SOLE Defined continues to establish its visibility by cultivating programming for the John F. Kennedy Center for the Performing Arts, Woolly Mammoth Theatre, Queens Theatre, Lincoln Center and The International Association of Blacks in Dance. SOLE Defined maintains inclusion on the Young Artist rosters of Maryland, Virginia, Pennsylvania and New Jersey. SOLE Defined serves 10,000+ students annually through multi-year partnerships with Harlem Stage, Port Discovery Children's Museum, Excellence Schools and the Smithsonian's Discovery Theater.
As an educator, Johnson has served on faculty as an adjunct professor of dance at Ball State University and Coppin State University, dance curriculum writer for Bowie State University and guest lecturer at universities across the country. Johnson has cultivated K-12 art integrated programming connecting stepping with math serving 5,000 students annually throughout the Mid-Atlantic region. Simultaneously, he leads professional development programming for dance educators and arts organizations, re-imagining teaching artist practices in the classroom through an anti-racist lens.
Johnson actively engages in cultivating conversations and curating opportunities to support the advancement of Black, Indigenous and People of Color artists. Johnson served on multiple grant review panels for the National Endowment for the Arts and other local panels to support artists and arts organizations. Johnson trained with Mary Slater in Edgewater, Maryland, leading to a professional career at 14, performing with Marvin Hamlisch and Gregory Hines. His career includes The Beatles LOVE and One Night for One Drop by Cirque Du Soleil, STOMP, Step Afrika!, Broadway's After Midnight tour, Rose. Rabbit. Lie. at The Cosmopolitan Hotel & Casino and The Washington Ballet's The Great Gatsby. He has taught at Broadway Dance Center, Millennium Dance Complex Las Vegas, Debbie Allen School of Dance, American Tap Dance Foundation, The Black College Dance Festival and numerous dance studios, conventions and festivals nationally. Johnson's choreography has been performed throughout Africa, Southeast Asia and North, South and Central America.